Cats roar into playoffs
Football tops Spring Hill 35-0, Bishop Miege awaits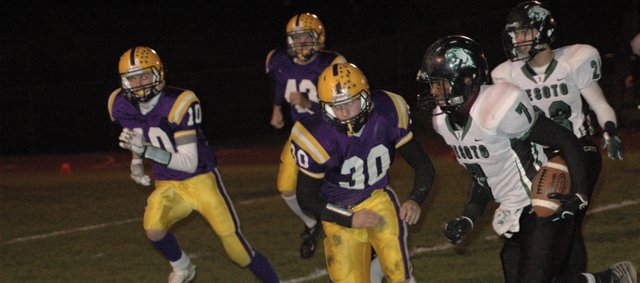 For the second year in a row, the De Soto football team is headed to the playoffs.
De Soto cruised to an easy 35-0 victory Friday at Spring Hill, and with the win De Soto has qualified for the postseason.
"Our kids are doing a great job on all phases of the game," De Soto coach Tom Byers said. "To get a body on a body and spring a kid like Dylan (Burford), he just needs a little crease. He's being his own guy and building a lot of confidence. And our guys are doing a great job up front. If it's on special teams, or if it's on offense, if they just give him a little, he goes."
Burford went the distance to the end zone four times on the night, including a 92-yard kickoff return on the opening kick. Burford then gashed the Bronco defense for 99 yards rushing and two more touchdowns on the ground by halftime.
And at game's end, Burford finished with 162 yards and four total touchdowns. Burford had gaping holes to run through most of the night, as the offensive line dominated the line of scrimmage.
"The holes were so big that the linebackers saw me coming," Burford said. "The holes were so big, I had to dodge them. But it was amazing blocking."
De Soto's defense also dominated from the start. On Spring Hill's first drive of the game, the Broncos had three false start penalties and had to punt. The Wildcats took over at the Spring Hill 41-yard line and quarterback Daniel Peterson connected with Jeff Bowen on an 11-yard pass to move the chains, and on the following play ran for a first down. Peterson then hit Joey Johnson for 13 yards, and Burford finished the drive with a one-yard plunge.
Peterson played admirably filling in for Logan Clark who missed most of the game with an injury. Peterson completed seven passes for 81 yards, and threw a 13-yard touchdown strike to Jon Hastings in the third quarter that pushed De Soto's lead to 28-0.
"I have all the confidence in the world and feel good about him under the center and running our offense," Byers said of Peterson. "He did a great job for us and had a touchdown pass down there. That was just a bullet. He's got a heck of an arm. And he does a great job stepping in there with great confidence."
Spring Hill did little offensively, as the De Soto defense had five sacks on the night, including two by Gabe Hamilton.
"If he rolled out, I was going to take him down," Hamilton said. "That's pretty much it. He comes to my side, I'm taking him out."
Byers credited his defense players and coaches for executing the game plan to near perfection.
"All the guys, we all work together and did a nice job putting together a game plan," Byers said. "And the kids obviously executing is the No. 1 thing. You can draw it all up, but it amounts to the kids executing what we practice all week. So hats off to both the kids and the coaches."
De Soto (4-4, 2-0) will play Bishop Miege for the district championship at 7 p.m. Thursday at De Soto.
More like this story