Better than the rest
Wildcat boys win league title, girls runner up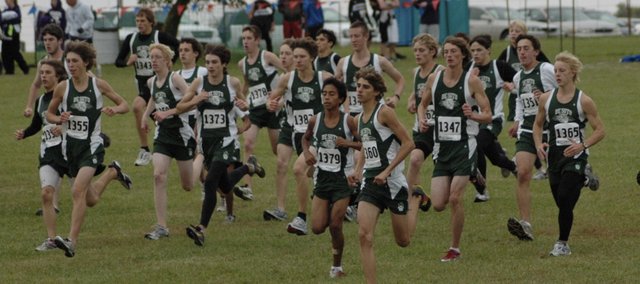 For the second time in three years, the De Soto boys cross country team is Frontier League champions.
The Wildcat boys beat Gardner and Baldwin Thursday at Rim Rock Farm in Lawrence to win the league title, and the DHS girls finished second overall to Baldwin.
It is the third league title in school history for the boys team, and the girls have now placed in the top two at league for several years in a row.
"Honestly, winning the league meet was one of our goals," cross country coach Chris McAfee said. "Baldwin has dominated the Frontier League for a very, very long time. And so to win two out of the last three is great. And it was Gardner's last time, their last league meet and you could tell they were pretty hungry to do well. So overall, for us to sneak out of there with a win was awesome. I just feel great for those kids."
For the boys, Austin Hinchey placed second overall in the 5K run with a time of 17:03. Diego Sanchez finished sixth, Ry Patton seventh, Ben Burgweger eighth, Bryan Jessip 12th and Phillip Kaul 14th.
Hinchey, Sanchez and Patton's runs earned them first-team All-League honors, and second-team honors went to Burgweger, Jessip and Kaul.
"One of the things we've been trying to stress to them is to run aggressive," McAfee said. "And we definitely were able to do that. There are still a couple things we need to work on, which is normal. But I was really pleased overall with the guys' performance."
For the girls, Ellie Sheridan finished fourth overall with a time of 16:37, Beth Reichenberger placed eighth, Carly Stanley 13th, and Maggie Oberle, Jordan Kline and Hannah Jokisch finished 18th, 19th and 20th, respectively.
Sheridan's run earned her first-team All-League honors, and Reichenberger and Stanley were named to the second team. Oberle, Kline and Jokisch earned third-team All-League honors.
Still, McAfee couldn't help but feel a bit disappointed because he thought the girls team would have a little stronger performance at Rim Rock.
"The girls would like to be competitive with Baldwin," he said. "I think Baldwin has maybe the best team in the state. It may be the best team they've had since I've been coaching, so they're really, really good. I don't think we went in with the right mindset, and there's a little frustration on my part."
McAfee added that with a little more positive thinking heading into the final two weeks of the season, the girls team could do well at regionals and state.
"If we can switch that mentality around and go in and be competitive, then we can definitely bring home a trophy from state," McAfee said. "But we won't bring home a trophy if we have the same mentality that we've had this past week."
The regional meet is Saturday at Wyandotte County Park and the state meet is Oct. 31 at Wamego.