Special teams play boosts Cats, 28-12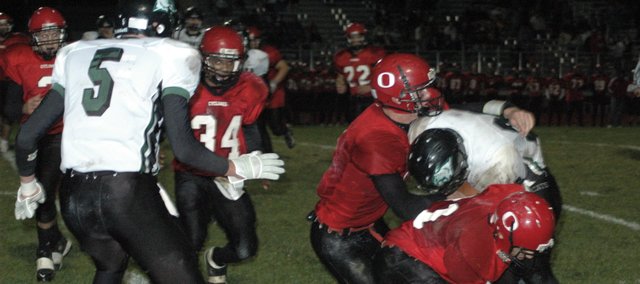 The victory was a little extra special for De Soto.
After all, it was the Wildcats' special teams play that fueled their 28-12 win Friday at Ottawa.
First, senior Jon Hastings blocked a punt late in the second quarter that led to a one-yard touchdown run by Dylan Burford to put De Soto in front 7-6 at the half. Then early in the third quarter, Burford returned a punt 65 yards to set up another touchdown – a three-yard pass from Logan Clark to Gabe Hamilton.
And Burford wasn't done yet. Later in the quarter, one play after Burford's 30-yard punt return, Jeff Bowen broke tackles and scored down the right sideline on an 18-yard run, pushing De Soto's lead to 21-6.
And finally, the "hands team" snuffed out an Ottawa onside kick late in the fourth, preserving De Soto's victory.
"The special teams were outstanding having big plays" De Soto coach Tom Byers said. "You've got a weapon back there like Dylan, and we talked about it all week. We felt we could return the ball against them. Our kids did a great job of pressuring them up front and making them have to protect. And that frees up some time, too, to let Dylan create some space. Give him a little space, and you see what happens."
Hastings also recovered a fumble on Ottawa's opening drive of the second half.
"That just comes with great hustle," Hastings said. "If you run around and you're always working hard, then you're going to be around the ball and be there. I think a lot of our kids on the team do that. I just get lucky sometimes."
Ottawa's opening drive of the game culminated in an Evan Mietchen 12-yard touchdown reception from Corbin Goedert. The extra point missed, and after that De Soto controlled the line of scrimmage.
"Our kids responded," Byers said. "And after they scored and went up 6-0, it was huge to miss that extra point."
Ottawa made things interesting late as Mike Dunlap caught an 8-yard touchdown strike from Goedert with 3:46 to play, but the De Soto hands team's recovery setup a short field, and Clark scored with less than a minute to play, effectively ending any chance of an Ottawa comeback.
De Soto (2-4) will begin district play Friday at St. James.
"It's going to be a tough go-round," Byers said. "We've got a tough district with St. James, Spring Hill and obviously (Bishop) Miege at the end. So we've got our hands full. We're just going to get back to work like we've done for the past six weeks."
More like this story