De Soto racers big in small cars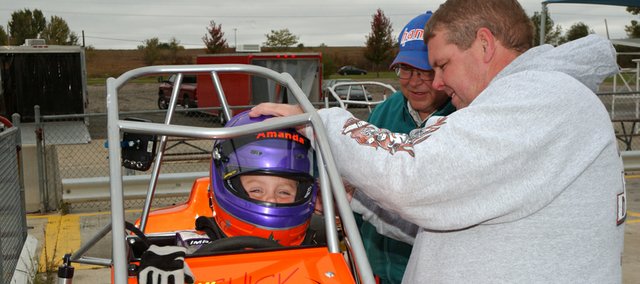 Despite less than ideal conditions, Adam Wilcox was doing what he does well Saturday at the Topeka Kansas Quarter Midget Association track.
The 13-year-old De Soto boy was crisply cracking laps around the 190-foot track, his right tires screeching as they gripped the cold concrete with each left turn.
As Steve Chick Jr. and Steve Chick Sr. adjusted the suspension of the younger man's 7-year-old daughter Amanda's new race car, they took note as Adam pushed his race car around the banked oval.
"That young man is one of the top quarter-midget drivers in the Midwest," Steve Jr. said. "And his bother isn't very far behind."
The praise is backed up by the four lap records Adam holds at the Topeka track and the season championship he wrapped up in the World Formula division of built-for-quarter-midget Briggs and Stratton motors before the final race and added a championship in Senior Honda. His 10-year-old brother Alex, who spent Saturday playing for his youth football team, owns another track record and won the Light 160cc motor size division.
In fact, Adam only lost two races all year at Topeka or at regional events at Tulsa, Okla., Austin, Texas, and Alabama, and one of those was when he was disqualified — wrongly Steve Sr. said — for driving too aggressively.
In appearance, the small cars Amanda, Alex and Adam race are smaller versions of the midget cars that schooled many NASCAR drivers. Like midgets and sprint cars, they have an outrigger setup that has the right tires extending farther from the center of the car than those on the left.
"If you drive one down the road, they will naturally turn left," Steve Chick Sr. said.
The cars have no gears. Controls are limited to a steering wheel, accelerator and brake pedals that controls a disc brake on the rear axle.
"Mash it and keep turning left," Steve Sr. said of the driving technique.
But, of course, there's more to in than that. And that is what brought the two De Soto families Saturday to Topeka.
Adam's father Earl Wilcox said the goal was to develop consistency. For the driver, that meant finding the proper line around the track for the conditions and duplicating it.
"You have to be smooth and have good handling so you can be consistent," Adam said. "When you pass, you have to be right on their bumper going into the corner just a little higher than they do."
Asked her secret to passing, Amanda said she "follows her line."
The answer delighted her father because it is what he and her grandfather coach.
"We tell her not to get in the trap of following the car in front," Steve Jr. said. "If she's doing that, she's not doing what she needs to do to get her in that position."
The other key to victory is getting the most out of the cars. And because the motors must remain stock, the task is to set up handling through adjusting tires, the independent shock-over-coil suspension and the drive train.
At the advice of Earl, who raced quarter midgets as a youngster before introducing his sons to the sport eight years ago, the Chicks locked the rear drive on Amanda's car so that its left and right wheels turned in unison so that the car would handle better on the cold concrete.
Like many of the parents in the association, the Chicks come to the sport with a racing background. Steve Sr. raced, was crew chief and owned of a number of cars competing in Sports Car Club of America classifications and started his sons Steve Jr. and Joe racing in their teens. The two Steves also owned a car in the NASCAR truck series for a couple of seasons.
"We can't modify the engine, but you know us. We will make sure the valves are lashed or whatever needs to be done to get it running at top form," Steve Jr. said.
There is enough room in the rules for innovation and improvements. The Chicks and Earl have replaced chain drives with a system that uses high performance timing belts and are making them available to savvy teams in the association, Steve Sr. said.
With hot summer tracks wearing out $60 rear right tires in a single night, it can be an expensive pursuit, Earl said.
"It's more expensive than buying a baseball glove," he said. "You can have a competitive car for about $2,500. It goes from there. Both Alex and Adam race two cars."
Quarter midget is open to youngsters 5 to 16 years of age. But Chick Sr. said few drive past 14 when they have other racing opportunities.
Adam, who will run quarter midgets one more year, wants to move on the sprint cars, Earl said. That will be a family decision for a later date, he said. For next year, there's still the goal of Adam winning at the nationals, he said.
As for now, Earl's thankful for the family time the sport offers.
"We're competitive, and I like that," he said. "We didn't start out that way.
"I like working on the cars. I enjoy that this isn't a drop your kids off for an hour and pick the up. You spend the whole day with them. Their mother is involved to. She helps at the concession stand and with the cars."
Steve Sr. confidently predicts Amanda will reach Adam's level of success. She's eager to race and learn, he said.
Amanda names her cars after horses and the family plans to add another car to her stable. It will have run motor not common in Topeka and will require the family to go to more distant tracks to compete.
Because of required safety equipment, it is a pursuit her mother Jennifer Chick approves her husband and father-in-law's plans.
"When you think about it, it's safer than riding a bike," she said. "She's strapped in with a seat belt, wears a helmet and wears a Hans device."