'

Community Minister' to mark 50 years at pulpit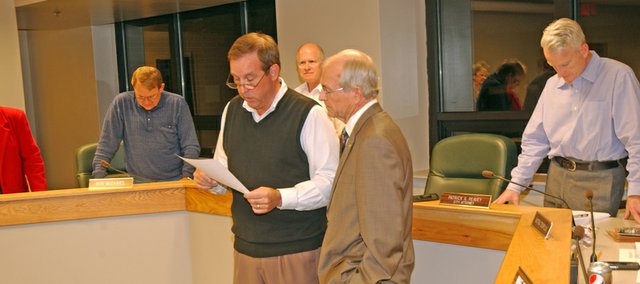 Richard Copeland had a busy first week of college 50 years ago.
First, he decided to transfer from Ottawa University to Southwest Baptist College in Bolivar, Mo. Two days later, Copeland traveled to talk to the track coach at Pittsburg State about transferring there.
He soon reconsidered that decision, too.
"He decided he wasn't transferring from Ottawa; He was running away from God," said his wife of nearly 49 years, Mary Etta Copeland.
That year as a sophomore Copeland started preaching at Greenwood Baptist Church near Pomona as a student pastor. He's been in the ministry since, serving as a youth minister at a Kansas City, Kan., church while in seminary and then as the paster of two rural Baptist congregations east of his native Garnett.
The De Soto Baptist Church will recognize its pastor's 50 years in the ministry at its 11 a.m. service Oct. 25 and a community reception following from 1:30 to 2:30 p.m. in Fellowship Hall.
Forty three of Copeland's years in the ministry have been at the De Soto Baptist Church. During those years, he and Mary Etta have raised two children, Richelle (Hodges) and Jon, and have had three grandchildren become part of the church and community.
The couple didn't expect to establish such deep roots when they moved to De Soto.
"Our crystal is heavy duty because we thought we would be moving a lot," Mary Etta said. "This just felt right.
"When we first came here, we prayed we would be here long enough to make a difference. After 10 years, we changed our prayer to staying long enough to enjoy it."
Mary Etta said the De Soto move was discouraged by both her and Richard's parents.
"We came a week early before his interview with the board," she said. "We really fell in love with it."
Jean Epperson, who led the search committee, said she and others were impressed by the young minister despite the reservations of some about his age.
"For some reason, I always felt he was one of us," she said. "We asked him to perch for us to see what the congregation felt. He's been with us 43 years."
There was some early in his De Soto ministry who didn't find in Richard's manner what they expected from a pastor, Epperson said. The young minister didn't change and his quiet ways are now much appreciated by the congregation, she said.
"I've never had any doubts," she said. "I've really appreciate the witnessing he has done for the young people in De Soto. He's not only been a minister to the Baptist, but he's been the minister to all the youth in the community."
Karen Wall, who helps lead the De Soto Baptist Church educational program and taught for years with Mary Etta at De Soto High School, agreed and said through his activities, personality and his long tenure Richard had evolved into the community minister.
"There are lots of cases where he goes to talk and minister to people who maybe don't have people to talk with," she said. "Because of Richard's kind, humble and accepting ways, there are many of De Soto's 'unchurched' who are open to talking with him."
The Copelands' son Jon, now the drama instructor at Mill Valley High School, said that was the aspect of his father's ministry that stood out to him.
"There were always people calling on him at any time," he said. "As a kid, he always went when he needed to go.
"That's pretty remarkable. He never got burnt out. He's kept his vision all this time. He's been a gentle leader. That's been his style."
Wall said the Copelands had a family ministry with Mary Etta going on hospital calls and other visits with Richard and playing a key role in the church's musical and educational pursuits.
Richard was equally supportive of Mary Etta's career as a vocal music instructor at De Soto High School, Wall said.
"He drove the school bus to events," she said. "He was at all the performances and play practices."
For her part, Mary Etta said she embraced being a pastor's wife, a role she saw for herself while growing up in the "strong" First Baptist Church of Leavenworth.
The long tenure and the strength of the family's ties to the congregation played a part in their children maintaining their faith and foregoing the rebellion that occurs with many ministers' children, Mary Etta said. The congregation recognized the family nature of the ministry in such ways as giving family Christmas presents rather than presents to Richard, she said.
"I think that was part of why our children didn't rebel the way so many ministers' children do," she said. "We feel very fortunate they are involved and have a very strong faith.
Mary Etta said Richard's ministry was stronger because his long tenure in De Soto has allowed him to build such close ties with his congregation.
"The most important thing is relationships," she said. "It's not about money or prestige. It's about relationships. Richard — that's one of his primary strengths. He's a very people person."
But close ties can cause pain, especially in a profession that requires intimate interactions during difficult times, Mary Etta said.
"That's the only real downside of being in a parish a long time," she said. "Everybody becomes family. You go through it with them."
It is his faith that sustains Richard during those painful times, Mary Etta said.
"He's a very positive person," she said. His favorite verse is 'And we know all things work together for good for those who love God and those who are called for His propose.'"
More like this story