Seniors speak up in win over Eudora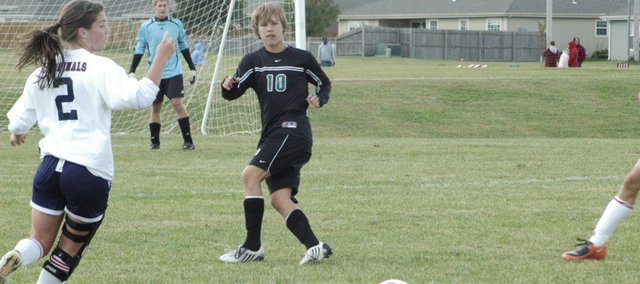 Photo Gallery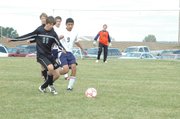 De Soto soccer vs. Eudora
At halftime, senior Duncan Henderson spoke and the team listened.
"All that was said was to focus on the fundamentals and bring the intensity," Henderson said. "We just needed to get our heads back in it."
After a lethargic first half effort Saturday at Eudora, the De Soto soccer team had a players only meeting at halftime. The Wildcats had the lead at the break, but it wasn't their best effort. But in the second half the Wildcats played much better and beat the Cardinals, 3-0.
The De Soto starters were benched to start the second half, and the reserves gave the team a lift. John Williams made a deep run down the left sideline early in the second half, and Henderson directed traffic from the back.
"These guys kind of feed off Duncan," De Soto soccer coach Darren Erpelding said. "He's the most experienced player, and he's kind of a leader through that aspect of it and John got very involved."
About midway through the second half, Henderson passed to Octavio Villa in the middle of the box, and Villa found the back of the net, giving the Wildcats 2-0 lead. About 10 minutes later, Alex Henning shot a ball in over Eudora's keeper for his second goal of the game, pushing the lead to 3-0.
De Soto controlled the second half, as Tyler Buffkin touched the ball only once, and that was on a pass back from Henderson.
"We really controlled the first half, but just kind of went through the motions," Erpelding said. "But that second half was much better. I was much happier with that."
De Soto put up 31 shots in the contest, while Eudora had four. All of Eudora's shots came in the first half.
The win puts De Soto's record at 6-6. But that record alone doesn't indicate how well the Wildcats have played against the bigger schools on their schedule.
"Against Olathe Northwest, that was probably our best game," Henderson said. "Even though it was a 4-0 loss, that was our best game. Playing these better teams is going to help us in the long run. Even though we're getting losses, it's helping us."
Erpelding said the stiffer competition would help the Wildcats this year during the postseason, and added that the team wanted to continue to play bigger schools.
"The only drawback to it is now that's all these guys want to play," Erpelding said. "They want to play the games that are always extremely intense and challenging. Now they're to the point where they want to play all these big teams so they're challenged every time."
And the coach added the tough schedule the Wildcats have played so far would have the team prepared for the stretch run.
"I think you're going to see it," Erpelding said. "You'll see a big difference. It definitely makes us more playoff ready. We're not going to be scared of anything."