De Soto shares in JoCo's success in job growth of past two decades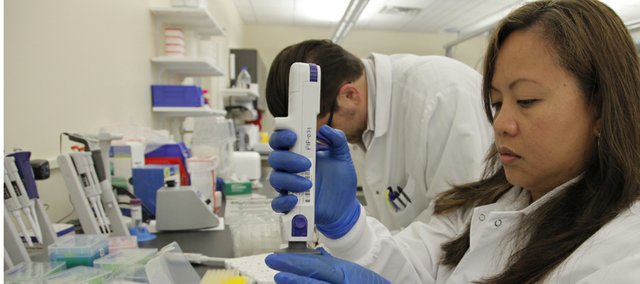 Although it hasn't shared in Johnson County's success in such areas as retail sales and home starts, De Soto has been a part of the county's remarkable job growth of the last two decades.
Last week, the U.S. Department of Labor released a study documenting the growing strength of Johnson County in the Kansas City metropolitan statistical area. The study looked at job creation since 1990 in Johnson, Franklin, Leavenworth, Linn, Miami and Wyandotte counties in Kansas and Cass, Clinton, Clay, Bates, Caldwell, Ray, Lafayette and Jackson counties on the Missouri side.
Johnson County has added more than 125,000 jobs from 1990 to 2007, growing its total number of jobs 184,000 to 309,000. That 68.1 percent increase far outdistances that of the other large metro-area counties of Jackson County, Mo., (1.3 percent) and Wyandotte County, Kan., (4.4 percent).
Although the report doesn't breakdown job growth by cities, De Soto has shared in Johnson County's remarkable job growth. Since 1990, all De Soto's current large employers have located in De Soto.
De Soto Chamber of Commerce Executive Director Sara Ritter said it was a success that gave the community a well-rounded economy not dependent on one sector.
"When CERI releases its annual survey, De Soto is well represented is many of the major industries," she said.
The list of employers and their local workforce as of March 1 include:
• Huhtamaki Americas, 420
• EngineeredAir, 208
• Intervet, 185
• Oncimmune, 25
• Mr Goodcents, 22 employees at corporate office and 13 a flagship local restaurant
• Custom Foods, 20
Also locating in De Soto since 1990 are Rehrig Pacific and Performance Glass, Ritter said.
The city also benefits from the presence of De Soto USD 232's Administration Building and support center in the old elementary school, Ritter said.
The chamber's statistic also indicate the view of De Soto as a bedroom community whose residents work elsewhere is incomplete. The vast majority of the workforce at Huhtamaki — 390 of its reported workforce of 420 — live outside of De Soto, while only 62 of EngineeredAir's 208 employees reside in De Soto.
The Labor Department report cites wages, educational attainment and quality of life as factors in Johnson County's success.