Sing and Sign class offers communication tips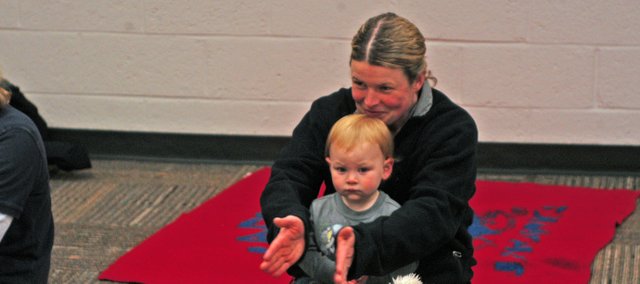 Charlotte Pener can tell her mom when she wants more Cheerios without actually saying a word.
Charlotte and her mother, Denise, attend Baby Sing and Sing classes at Shawnee Mission Medical Center.
Through the classes Charlotte has learned to communicate words like dog, more and food.
"She is already responding with signs," Denise said. "She's doing more all the time now."
Anica Milberger, baby sing and sign instructor, began teaching the course, which pairs music with simple signs, in October after completing a six-week licensure and training course.
The 45-minute sessions focus on training parents how to use signs with their child while at home.
"The first 15 minutes we practice new signs," Milberger said. "Then we break into four themed play areas to practice using their signs."
The group also comes to the middle to sign to music.
"The folksy songs have simple lyrics and tunes that children can relate to," Milberger said. "The music is paired with basic signs like please, thank you, mommy and daddy. Infants until at least a year can't produce the language needed to speak. The program helps parents and children communicate."
Parents also learn easy ways to continue teaching their children signs from home.
"Parents learn at class and take home the lessons and practice with the songs and gestures," Milberger said. "We also give them examples of toys to go along with the songs. It's really about the bonding experience with your child."
The program, which takes place over four sessions, costs $65 and includes the course book and CD.
"For parents the class creates a stronger bond with their child," she said. "It brings them down to their level to respond to their needs. Sometimes you don't know what your baby is saying with gestures. (The course) makes parents realize their child understands them. It also decreases the frustration level, and the child feels their needs are getting met."
Milberger said she's seen firsthand the happiness between parents and their child from taking the class.
"Your voice is the most beautiful thing to the child," she said. "Babies respond to their parents so well in the class. They have so much fun."
Milberger said the musical aspect of the program helps with motion and movements.
"Parents can put their own words to the songs," she said. "It's good for parents to modify the songs for the situation."
The multisensory class allows babies to become better coordinated and balanced, Milberger said.
"The babies are focused more and learn more," she said. "The class is really tailored to what they are doing.
"The music promotes listening skills and motor coordination. The songs are comforting to babies because they are predictable and entertaining."
Milberger is working to expand the course to Western Shawnee.
For specific class information visit the Baby Sing and Sign class Web site at www.babysingandsign.com.