Contractor strives to survive hard times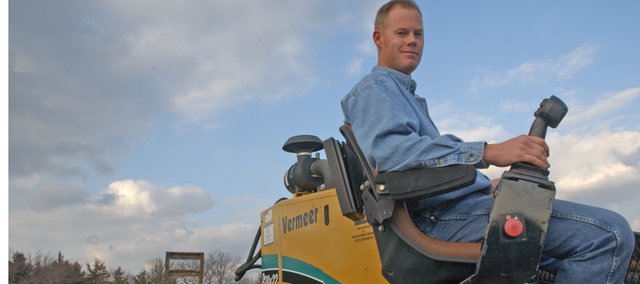 There's been many days in the past year when Andy Everett worried his business, E's Directional Boring, wasn't going to make it.
"That's on a weekly basis," the 34-year-old business owner said. "There's been times I lost sleep, wondering how I'm going to pay the bills. I've come home thinking we would have to shut it down and auction everything off."
Everett started working construction about 15 years ago as a underground utility spotter, a job that shared a skill set needed to operate the new horizontal directional boring technology that came on the scene in the late 1980s and early 1990s.
The directional borers allowed crews to install underground pipe and conduit while weaving up and down to avoid existing sewer, water, electrical and communications lines.
He was recruited by a number of firms in the new field, gaining experience and expertise. Four years ago, he had the opportunity to buy the business from the firm he was working for.
It wasn't an inexpensive proposition. The core of the business, the directional borer, costs about $130,000 and there is enough supprt equipment needed to run a crew to place equipment needs at about $250,000.
The first two years, business was good, and Everett said his envisioned expanding with jobs booked six to eight weeks out. But things started to slow in 2008 before taking a nose dive with the start of the recession.
When Everett ran the numbers on the bad year in early October, he found his construction company's business was down 30 percent from the year before and 40 percent from 2007.
With bills have to pay, loans to repay and payroll to make, the lost business revenue hits the Everett household.
"There's been times I don't get a paycheck," he said. "I'm fortunate my wife (Sundee) is a CPA with a good job."
They were able to make it through those bleak times because he and his wife established a budget that required only one of their incomes, Everett said.
Still, business was so bad in February, Everett was forced to lay off two for his four employees.
"That's was the first time we've ever had to lay off," he said. "Fortunately, we were able to bring them back on in six to eight weeks."
Construction firms are struggling throughout the metropolitan area, said Ed DeSoignie, executive director of the Heavy Constructors Association of Greater Kansas City.
"The situation is like frozen in place," he said.
The recession and recent history have banks cautious of lending, partly out of fear of federal regulators "showing up to look at their loan portfolios," DeSoignie said. The other concern is the large inventory of empty commercial development will spur a replay or the residential bust as developers walk away from their debt, DeSoignie said.
With residential and commercial jobs scarce, contractors who traditionally worked in those sectors are looking in the public arena where work can still be found, DeSoignie said.
"Contractors are telling me when they show up for a bid opening where they used to see five or six bidders, there will be 15 to 20," he said.
Everett was ahead of the recession's downward curve in that respect. He said he made a two-fold decision early to focus on water lines and government projects. Cities, counties and water districts were less a risk than private developers and more consistent that telecommunication firms, he said.
Everett said DeSoignie was correct about more contractors migrating to public projects with the recession. There is more competition and those firms will often bid low, he said.
But with direction boring contracts, where a mistake that severs a line can require costly and time consuming repairs, jurisdictions are not as likely to go with the low bidder, Everett said. Johnson County Water One, the biggest water producer in the county, uses his company exclusively because of his reputation, he said.
"Cheaper is not always better," he said. "You get what you pay for."
DeSoignie said few of his members have went out of business, but many have had to let their longtime union employees go. That can be painful, both because of personal relationships and the risk of losing quality workers, he said.
That's a big concern in his business where teamwork and experience are needed to perform the delicate and complicated bores, Everett said. It takes a year for the two-man team on the boring rig to develop a good working relationship, he said.
He has seen contractors go out of business since the recession started, Everett said. In many cases, they were overextended or marginal contractors who couldn't survive in the market place when jobs got scare, he said.
As for his company, work has picked up in the last two months, Everett said. He and Sundee have also made other adjustments to cut expenses.
"We worked with a consultant with Sprint to cut or phone line about $400 a month," he said. "We're only spending on the necessities."
Although he had a lot to learn as a businessman, Everett said he made a number of decisions that have helped he weather the recession. In addition to the early decision to focus on public contracts, he and his wife also saw the need to reduce as much debt as possible when the times were good.
"Without that, we would be a statistic," Everett said. "My goal now is just to survive.
"The way I look at it, we just have to make it, That's what we have to do."