String of success
Wildcats' late tear highlights '09 football season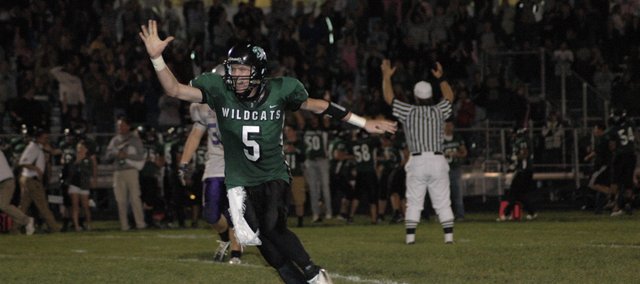 Daniel Peterson's game-winning touchdown pass to Dylan Burford against Baldwin did more for the De Soto Wildcats than simply produce Tom Byers his first win as De Soto's football coach.
It set a precedent for which the program can build upon. As Byers put it, it showed his football team that the ball could bounce its way — something both he and his players have been unsure about for the past few years.
"When we took that broken play, and the ball bounced our way, we launched it and scored to win," Byers said. "From that point on, we played really decent through the next five games to get in the playoffs."
The squad opened its 2009 campaign with powerhouse Gardner Trailblazers — a team that hopes to bring home a 5A state championship this weekend. Two more losses to Frontier League foes Eudora and Louisburg, in games closer than what the score indicated, made for a 0-3 start for the Wildcats and things looked rather gloomy.
"The Frontier League was just so competitive," Byers said. "We had six teams qualify for the playoffs. We have to learn how to play on a high level week-in and week-out in order to compete for championships. We have to be able to knock them off."
Following a gut-wrenching 7-6 loss to Paola on homecoming, the Wildcats did just that, tearing through the next three games with lopsided victories over Ottawa, St. James and Spring Hill and qualified for the playoffs for the second year in a row.
The end of the season paired De Soto with Bishop Miege and Eudora. The Wildcats lost those games 29-15 and 28-0, respectively. But Byers was proud of what his team accomplished this season.
"If I could take away one thing from this season, I saw a group of young men come together and improved week-in and week-out," he said. "We had a core group of kids that bought into what we were doing, and it was very positive. We had positive daily experience and seeing that continued growth was pretty special."
The Wildcats finished the year 4-6 and will lose 14 seniors to graduation in May, many of whom played skill positions and saw significant playing time in 2009.

Among them are Burford, the team's leading rusher with 697 yards and seven touchdowns. Logan Clark also gained 317 yards and scored four touchdowns on the ground. He also threw for 257 yards and three touchdowns. Daniel Peterson led the Wildcats with 356 yards passing and threw three touchdowns.
The team also will lose some key lineman in Lyle Logan and Daniel Davis. Logan recorded 71 tackles and Davis 45 on defense.
"All 14 of those players make up a great group of young men, all with different personalities," Byers said. "Any year you are going to be sad to lose talent, but at the same time, we're in the business of preparing to exit here, too."
As this crop of seniors end their time at De Soto, Byers and his staff are already preparing to fill voids with some young returning talent.
"We will have some things for them to do after Thanksgiving break and that will continue into the second semester," Byers said. "January and February will be big months for us."
More like this story