Moore says decision to retire was about family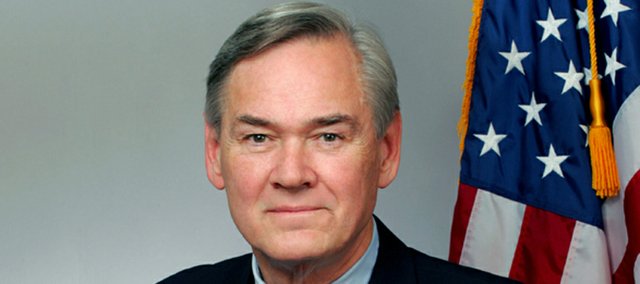 U.S. Rep. Dennis Moore, D-Kan., said he made his decision not to seek reelection in 2010 because of a desire to spend time with his family, not in response to political pressure.
Moore officially discussed his decision to leave Congress after finishing his current term in a press conference Tuesday at his Overland Park offices. Moore said his retirement followed a plan he had previously discussed with his family.
"My wife and I talked about staying in Congress for about 10 years, and we're in year number 11, so we've made the decision not to run again," he said.
Moore said he had no intention to run for Kansas governor or senator or any office in 2010, and while he wouldn't rule out political office ever again, "for right now, this is certainly the end of it." He said he also hasn't looked for or been offered any other job at this time.
Moore insisted he was not retiring because of a fear of a tough reelection campaign next year. He said he thinks each of his six election campaigns have been difficult.
"I'm not concerned about tough reelection campaigns because that's been the usual thing here in the third district of Kansas," he said.
When he was elected in 1998, Moore noted he was first Democrat elected in district in 40 years.
"I think the reason I got elected was I'd been the DA here for 12 years and they thought, 'Well, he's a Democrat, but at least he's not a crazy Democrat,'" he said. "They were willing to take a chance on me, and I think people by and large have been fine with the job that I've done or think I've done a decent job. There's always going to be some people unhappy, but that's the way it is."
Still, Moore said he did think there are some good Democratic candidates out there, though he wouldn't name any names, and they would have a chance of competing with any Republican candidates.
Either way, he said he hoped his successor would represent the people.
"I want both parties represented," he said. "I tell people virtually every time I speak back here, 85 percent of what we do in Congress should not be about Republicans and Democrats, it ought to be about taking care of our people and our country, and I truly, truly mean that."
Though he had previously indicated would run again and had raised some campaign funds, but Moore said while he started raising funds thinking he might run again, there was no major trigger that made him decide to retire — he simply wants to spend time with his nine grandchildren without having to fly home every weekend.
Moore said he intended to discuss with his staff how to re-disperse the funds that have been raised for future campaigns.
He said the current year has been intense, but his decision did not result from the difficult issues that he has faced in Congress this year. Moore said though it was tiring, his health also was not a reason for his retirement. His only current health concern was an upcoming surgery for a hernia he was diagnosed with a few months ago.
Moore pledged to spend the rest of his time in Congress working to speed the country's economic recovery.
"This is a trying time for our country. We have some huge problems facing our country that our country has not been confronted with since, frankly, the mid-30s," he said. "…We are getting through this I think, things are on the men, but there are some people hurting out there, and I'll be working in the next year to try to work with my colleagues in Congress to address some problems in our country to try to get those a little faster through the mending process."
Moore listed three things he was proud of accomplishing while Republicans held the majority in Congress: a bill requiring the Department of Defense to cover the domestic travel costs of military troops when back in the country for rest and recuperation; a bill increasing the death gratuity benefit for the families of soldiers killed in Afghanistan; and legislation requiring child-proof caps on gas cans.
More like this story