Girls basketball settling into new offense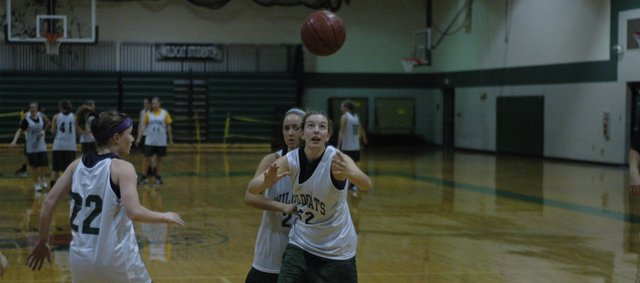 If the summer league championship and some promising preseason practices are any indication, it appears the De Soto girls basketball team will be much improved after a 2008 campaign that saw the Wildcats finish with just three wins.
The squad returns all but one starter, and coach Dwight Spencer said recent practices went about as well as could be expected.
"We're looking pretty good overall," he said. "There haven't really been any surprises. The girls are out there getting after it and are putting on a pretty good showing so far."
After graduating Amber Laudick, the 2009-2010 Wildcats return their No. 1 scorer in Shelbi Petty, guards Tami Crow and Kelsey Fisher, swing player Katie Williams and Ashley and Katie Gorman.
Spencer said he implemented a new motion offense over the summer that the girls appear to be grasping in the early going.
"It's more of a set offense than what we did last year," he said. "Motion gives the kids a lot more freedom and decisions to make. It's a little more set. Of course, we won't know until we play against another varsity team."
With the Gorman sisters playing down low, Spencer said he expected Williams to be able to play the three or four spots.
"She's going to be helped by having other posts down there this year," he said. "I think that will open up a lot of things for her."
The Frontier League, Spencer said, was not expected to be quite as strong as it was last year, considering two players from last year's league are playing big minutes in college.
"I think it's still going to be very good," he said. "But the league shouldn't be near as good as last year. Last year was kind of ridiculous."
De Soto opens its season against Maranatha Dec. 8 at De Soto before traveling to the Olathe South Tournament.
"I'm pretty excited to play good competition in the beginning because we'll be able to go out and compete a little bit and see where we stand," Spencer said.