Tough Choices: Health insurance often disappears with job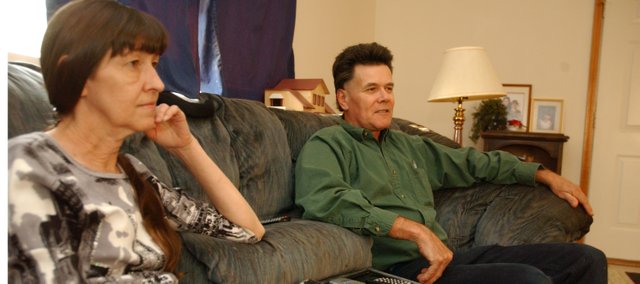 Editors note: This is the first of a series of stories that examines the recession's effects on De Soto residents.
It didn't take Cecil Page and Susan Walton long to learn how their health care situation changed after he was laid off in January.
One day after he lost his job, Page took Walton to the dentist only to learn the dental card issued days before his termination had been canceled.
"They canceled it the same day they laid us off," Page said. "I thought it was a mistake. I thought it would be good through the end of the month."
The 55-year-old Page worked as a crane operator for Advantage Metals Recycling, a Kansas City, Kan., company dependent on the auto industry. With his hourly wage and bonuses paid by the railroad for cars loaded with scrap steel, the money was good, Page said.
But about two years ago, things started to slow. Page watched as loaded train cars stayed at the yard when first Chrysler and then G.M. canceled their orders. When the last of the big-three U.S. automakers, Ford, followed in January, Page's job disappeared.
"We could see it coming," he said. "We had an emergency meeting. That same day, we were all laid off."
Lost with the job was Page and Walton's health insurance. The couple already had medical bills because of their policy's large deductible and Walton's health problems, which include liver concerns, high blood pressure and heart problems that continue to plague her.
Twice since his termination, Page has taken Walton from their Ottawa Street apartment to the emergency room for chest pains. Those visits spurred a full battery of tests and bills.
Federally mandated COBRA coverage, which requires health insurance companies to temporarily offer policies for those losing jobs or moving on to different employment, is meant to prevent those coverage gaps. In February, Congress responded to the recession with a provision capping COBRA payments for laid-off workers at 35 percent for nine month, with the insurance providers compensated for the remaining 65 percent through a tax credit. The measure was retroactive to September 2008.
Page said he gets $425 a week from unemployment and his COBRA payment in January would have been $588 a month with another $56 for dental coverage. The couple considered continuing coverage at 35 percent after the February legislation but still couldn't afford the premiums.
"We're really strapped right now," he said. "It was costing twice as much for health insurance. What a terrible thing. If we paid for that, we wouldn't be living in this apartment."
Amanda Lowe, president and CEO Health Partnership Clinic of Johnson County, said the unemployed often faced tough decisions.
"COBRA is helpful, but it still leaves patients with a percentage of income they have to pay," she said. "When you lose your income, you still have rent, groceries, utilities and transportation. Even with COBRA, health insurance is cost prohibitive for many individuals."
Health Partnership Clinic is a full-time safety net practice for the uninsured in Johnson County, Lowe said. Its goal is to be the medical home of the county's uninsured for both primary and acute care, she said.
With the recession, Health Partnership Clinic's Overland Park and Olathe sites have seen a spike in activity. Lowe said the clinics had 1,000 patient visits in October 2009 compared to 600 in October 2008.
"That's an 80 percent increase," she said. "We're definitely seeing professionals who never had to turn to us in the past who are having to come to us to help manage their chronic diseases."
Dr. Mike Jurkovich, executive director of Truth and Mercy Medical Mission, said the same was true of that faith-based agency's Johnson County family practice clinic at 5817 Nieman Road.
"We're seeing a lot more unemployed and uninsured, especially in Johnson County," he said. "Our numbers in Shawnee haven't increased on a daily basis, because we were already packed.
"What it has done is push our bookings out two or three weeks."
Health Partnership Clinic also is operating at the full capacity of its volunteer and paid staff, Lowe said.
Truth and Mercy and Health Partnership Clinic have added evening and weekend hours recently to meet the increased demand. They also worked together with other safety net clinics to serve more patients.
"We have to triage carefully so we maximize the resources we have,"she said. "For acute care, we do make referrals to other resources who work with us. Wyandotte County has seven safety net clinics we work with."
Last month, Page and Walton found themselves referred to one of those clinics, Jay Doc on Southwest Boulevard, when Walton developed a lump under her armpit.
Walton went to the head of the line to get the lump lanced and scrapped.
Walton is now taking antibiotics for the surgery in addition to her $72-a-month blood pressure subscription. Last week, she was also near the end of the diabetes testing strips she needs to track her worrisome glucose level.
To pay for those, Page was planning to get up at 4:30 a.m. Friday to report to a temporary labor service for a one-day job. He can take a limited amount of such pay-as-you-go jobs without affecting his unemployment benefits and had hoped to use the extra money for something other than health costs.
"Every time I get a little ahead, something comes up," he said.
Page said his family was in the crane business and he had either built or operated them all his adult life except when laid off during the recession of the early 1980s.
"Back then, health insurance wasn't so expensive," he said. "You could afford it on unemployment."
Another difference is Page's certainty his old job will not come back. And he has little hope of finding another job soon. The job openings in the construction industry for crane operations have dried up, as well, he said.
Page is looking in a different direction and is training in the information technology field for network and firewall installation.
"That's going to be our way out of this," he said, flipping his thumb along the corner of a pile of medical bills. "It's been an interesting year."