Health Department continues
H1N1

vaccination quest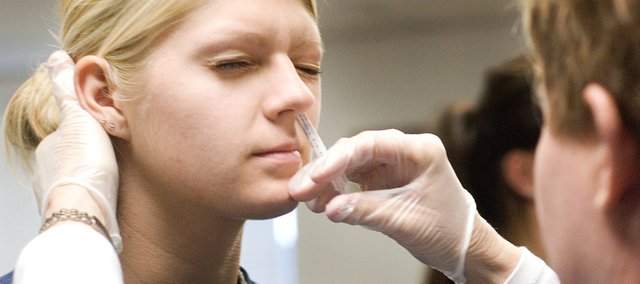 Public health officials' fight against the H1N1 flu continues on two fronts in Johnson County, with vaccinations continuing to take place in schools and another public vaccination clinic scheduled for next week.
And although enough vaccine still isn't available to immunize members of the general public, the number of target groups eligible to receive the vaccination has expanded.
Johnson County Health Department will stage a public H1N1 vaccination clinic from 1 to 6 p.m. Tuesday, Nov. 24. The clinic at Johnson County Health Department, 11875 S. Sunset Drive, Olathe, will serve those on a first-come-first-serve basis.
Vaccinations will be administered to the following priority groups:
• Pregnant women
• Persons who live with or provide regular care to infants less than 6 months of age
• Healthcare and emergency service personnel
• Persons 6 months to 24 years old
• Persons 25 to 64 years old with underlying medical conditions.
Healthy persons, not pregnant, will receive the nasal spray vaccine.
Pregnant women, children 6 months to 23 months old and individuals 50 years old to 64 years old will receive an injectable dose of the vaccine.
Leigh Anne Neal, director of communications for Shawnee Mission USD 512, said vaccination clinics are still under way for district students with underlying medical conditions.
The clinics are being handled on a school-by-school basis, with principals notifying parents when clinics will take place.
Neal said the district plans to vaccinate more students, who have consent forms signed, once the Johnson County Health Department gives its go-ahead.
Vaccinations clinics for students with underlying medical conditions in De Soto USD 232 wrapped up last week.
Alvie Cater, USD 232 director of communications, said the district planned to move forward with phase two of the vaccination process and conduct clinics for middle and high school students with underlying medical conditions in the coming weeks.
The district's phase three expands vaccinations to all students with consent forms signed. Phase three will begin once there are enough vaccinations available.