Superintendent suggests limited
DHS

expansion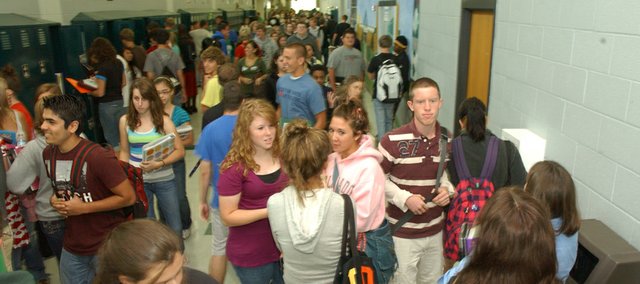 Superintendent Ron Wimmer proposed Monday the De Soto USD 232 Board of Education consider a scaled back expansion of De Soto High School so that it could move ahead in a shaky economy.
In November 2008, USD 232 voters approved a $75 million bond issue for construction of Belmont Elementary School in Shawnee and additions to Mill Valley and De Soto high schools.

The De Soto High School expansion was the last scheduled project on the list. Like the Mill Valley expansion currently underway, it was to include an expanded library and media center, new science labs, an auxiliary gym, a number of new classrooms and a new administration area.
However, the board has not agreed to begin the DHS expansion out of fear the community could not handle an increase to the mill levy in the current economy.
On Monday, Board member Randy Johnson questioned why the expansion would be necessary when De Soto High School had not yet reached its design capacity. Fellow Board member Bill Fletcher further questioned the need when district growth was slowing, citing projections quoted in a grocery store marketing study the city of De Soto commissioned.
Wimmer, who recently spent a day at the high school, said some expansion was needed. The school's design was more than a decade old and was not up to current standards, he said.
Wimmer suggested the board could approve a portion of the proposed expansion as a way to alleviate congestion at the school without putting as large a burden on taxpayers.
The construction would include:
• A secure front entry to the school.
• Additional teacher planning space.
• Teacher conference rooms.
• Filling in a courtyard area for an additional hallway and a large area with three partitions for class space.
• A renovation of the fine arts wing, which would add four to five classrooms.
Wimmer said the construction could start on a quick timeframe if the board were to approve the measure at a later date.
The board directed Wimmer to come back with more information on the additions after speaking with Horst, Terrill, & Karst Architects, the firm hired for the DHS renovations.