Fall musical teaches cast time management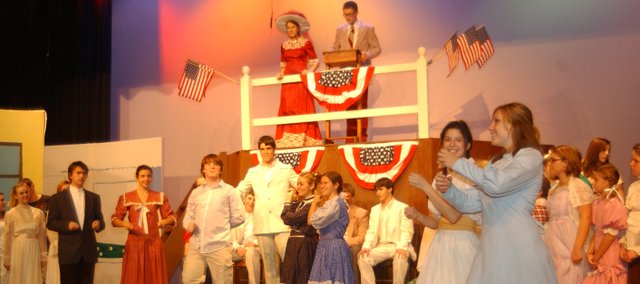 Students in De Soto High School's production of The Music Man received a lesson in time management this fall.
A number of the show's cast members juggled school work, sports, the musical and other extra-curriculars.
Daniel Davis, senior, spent his time between football, band and sharing the lead of Harold Hill in the musical.
"It was really exciting, but challenging," he said. "I had football before this, so I just really got to memorizing all my lines last week."
To alleviate such tight schedules, Erin VanVoorst, director, set up rehearsals around students busy schedules.
"I'm in a lot of college classes and they've (the directors) have been a lot more lenient this year on letting us do homework during practice," said Becca Roberts, senior.
VanVoorst found another way to cope with busy schedules, the chance of a flu outbreak and give students the opportunity for larger roles in the musical: double casting.
"This year the cast on Wednesday and Friday is different than the cast on Thursday and Saturday," she said. " We were worried at the beginning of the school year that a lot of kids would be out with the flu and we wanted to make sure that all the kids got the opportunity to have roles in the musical."
This year's cast of 67 students made it possible to double cast many of the roles, including the leads of Harold and Marion.
Stephanie Hopkins, senior and Becca share the role of Marion, the librarian who falls for Harold.
Becca, who is a huge fan of the movie, said she had most of the lines memorized before being cast in the show.
"It's one of my family's favorites," she said. "When it came up that we would be doing it as the musical, I knew I already knew most of the lines."
Often running lines on stage at the same time, Stephanie said at times it was hard to keep up with Becca.
"It's hard to say the lines at the same time as Becca, because she knows them so well," Stephanie said.
Donny Parr, junior, plays Harold Hill in the production.
"It's been a fun experience, but challenging because of the dual cast," he said. "The main thing is you only get half the reps because sometimes we both have to be on the stage at the same time."
Fourteen elementary and middle school students are also featured in the musical.
"If they had a sibling or were related to a faculty member, the middle and elementary students could audition for the show," VanVoorst said.
Despite absences from sports and other extra-curriculars, VanVoorst said the show was ready to open for the SilverCats Wednesday evening.
"It's really enjoyable show," she said. "There's a happy meaning behind the production."
The Music Man runs at 7 p.m. Thursday, Friday and Saturday at De Soto High School.
More like this story