USD

232 students stay drug-free with Red Ribbon week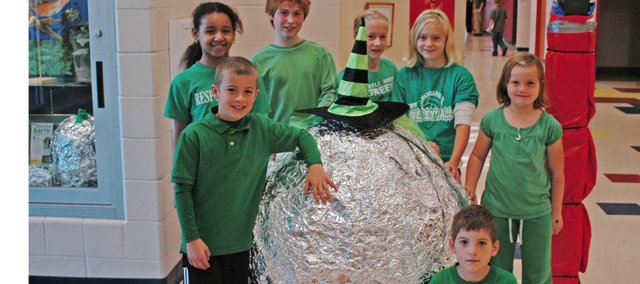 Students in the De Soto USD 232 pledged to lead drug-free lives as part of Red Ribbon Week festivities.
Schools celebrated the week with spirit days, assemblies and lessons on being drug-free.
Students at Starside Elementary kicked-off the week with an assembly, featuring a marriente.
Dylan Nimrod, second-gradeR, said the puppet show taught him about the importance of being drug-free.
Students also dressed up in a specific color each day to celebrate being drug-free. On Oct. 28, students wore green, a color commonly seen in the green-friendly school.
Becca Clancy, fifth-gradear, said she found out the meaning behind Red Ribbon Week.
"It started because someone was killed when he was trying to stop drug use," she said. "We wear a ribbon for him and his family."
At Horizon Elementary,Kim Gasiorowski, counselor at Horizon Elementary School, said the school takes part in Red Ribbon Week every year.
"We handed out items provided by the state of Kansas, teachers decorated rooms with ribbons, and each class talked about drug awareness," she said.
Each morning at Horizon, Gasiorowski drew names of students to receive an award for wearing their red ribbon.
"We had red ribbon winners, two from each class, every day," she said. "It was an incentive to be good with their ribbons and wear them."
The ribbon is a symbol of hope that someday drugs won't be a problem, Gasiorowski said.
Red Ribbon Week began in 1985 after a Drug Enforcement Administration agent, Enrique Camerena, was murdered. Residents of his hometown wore red, satin ribbons in his honor, and the ribbons became a symbol of prevention in order to reduce the demand for illegal drugs. Soon after Camarena Clubs began in California. In 1988, Congress proclaimed the first National Red Ribbon Week.
Gasiorowski said she shared the story of Red Ribbon Week's beginning with fifth-grade students but doesn't with younger students.
"The main thing is that we want to get across to students at the elementary level to make responsible, safe choices for themselves," she said. "Being assertive to saying no to anything that is offered to them is bad, especially drugs."
Older students in the district dabbled a bit more into drug facts and statistics.
Students at Lexington Trails Middle School got a firsthand look at how the Johnson County Sheriff's Office deals with drugs.
Officers brought in one the department's drug dogs, Ace, to show how the animals are trained to detect illegal substances. Ace is trained to sniff out five illegal drugs, marijuana, methamphetamine, cocaine, heroine and ecstasy, Master Deputy Daniel Fretz told the students.
After the presentation students asked questions of Fretz, mostly pertaining to the effectiveness and safety of the drug dog.
Jennifer Schneider, eighth-grader, said watching Ace walk around and sniff out the drugs was interesting.
"I thought they could sniff out more but they are only trained to find five drugs," she said.
The lessons for the middle-schoolers went beyond the presentation with Ace.
Erin Kaul, eighth-grader, said she learned teenagers don't know they can die from alcohol.
"Because of all the deaths it really makes you wonder if it's really worth it," she said. "You don't get anywhere with it, except jail or dead."
Connor Scimke, eighth-grader, learned that you always have a choice when it comes to drugs.
"Drugs kill, 14,000 Americans die every year from drug use," he said. "I think Red Ribbon Week really gets students thinking about the habits of drugs."