MCMS

students work to change the world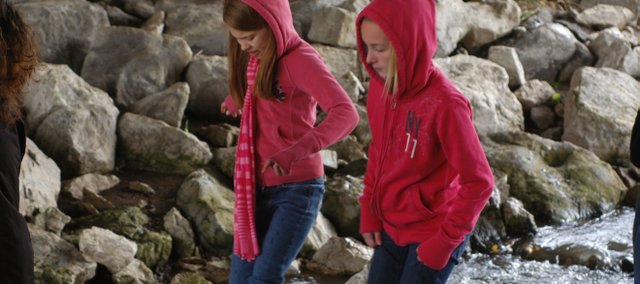 Science and communication arts might not seem like the perfect match, but sixth-graders at Mill Creek Middle School know they work together well.
The communication arts students delved into science Friday morning when they tested the water in Clear Creek.
The students learned just how important water is as a resource and how their actions affect the world.
Kristan Langton, communication arts teacher, uses the lesson to show students an alternative when choosing research for their upcoming "Can We Be the Change" projects.
"I think the biggest thing is it gives kids sources they might not think about," she said. "It's a hands-on demonstration, it's actual data that are examples of information so when they tackle their own research they don't always go to an encyclopedia or the Internet."
For the projects students will tackle an issue they find important to the community, the United States or even the world, Langton said.
"This is just one avenue of research to show case how our actions affect the world," she said of Friday's activity.
This is the second year Langton has used the Blue River Watershed Association, a group that helps teach young people about the importance of good water quality to health, recreation and the quality of life in the Blue River watershed
Jackson Reynolds, sixth-grader said, Friday morning consisted of taking water temperature in the creek and measuring phosphate levels.
"We tested the water in several different areas to see how polluted the water is," he said. "We used a lot of tubes and chemicals."
Kate Delehunt, Blue River Watershed Association educator, comes to Langton's class to speak to students about water resources, testing and to compile results from the tests.
In the final meeting with Delehunt, on Thursday, students will determine the Water Quality Index for their samples.
The results are then uploaded on the Blue River Watershed Association Web site to be compared with other Water Quality Index numbers by other students.
"We will take our data and crunch some numbers to send to the state of Kansas," Langton said. "After that we will use a few articles on water to teach some of the essentials like structure and inference that students will need to know for their projects."
Langton said the water testing and the change project show students how to make their mark on the world and make a difference.
"What I would like them to get out of the water testing is that actually doing the research yourself is different than taking someone's data, it's more meaningful," she said. "We like to do real-world applications. It's a meaningful activity and very motivating for a lot of those students."
Taylor Pullen, sixth-grader said, testing the water was more enjoyable than just reading data in a book.
"You get to learn more by doing it yourself," she said. "We also learned the if people stop littering and pick up trash, water won't be as polluted."
It's such awareness that Langton hopes students continue to gather through their projects.
"Before they weren't aware of how water affects other people," she said.