Front runners
Girls second, boys third at state cross country meet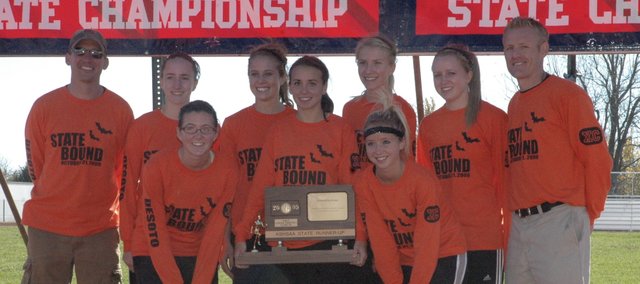 No, the De Soto cross country team didn't take home a first-place trophy at Saturday's Class 4A State Cross Country meet in Wamego, but De Soto was the only school to have both teams place in the top three.
The De Soto girls finished second overall to Baldwin, and the boys finished third behind Mulvane and Wamego.
"That's about where we were projected to finish," De Soto cross country coach Chris McAfee said. "On the girls side it was a little bit harder to tell where we would finish, but they ran really well. And on the guys side we knew we were slated to be third."
Leading the way for the girls was Lacey Erickson with a 13th place finish in a time of 16:18. Erickson's performance also earned her a medal and a spot on the All-State team. It also was Erickson's third medal at the state meet, which ties her for second most in school history.
Beth Reichenberger finished 21st at 16:25, Carly Stanley 23rd at 16:41, Ellie Sheridan 28th with a time of 16:47, Jordan Kline 48th at 17:08, Hannah Jokisch 58th at 17:31 and Sarah Churchwell came in 85th at 18:44.
De Soto beat third-place finisher Wamego by 41 points, but Baldwin beat De Soto by 52 points. Baldwin had six girls place in the top 18.
"That's pretty tough to beat, but I'm really pleased with the way our girls performed," McAfee said. "Even two or three weeks ago it was hard to say where we would finish at or if we would get a state trophy. I think we improved a lot from the beginning of the year to the end of the year, and Baldwin was s very, very special talent."
McAfee said of the girls, he was most pleased with Kline's effort.
"We've been after her quite a bit," McAfee said. "I thought she had probably the best race of the girls overall, and the girls really ran well. So that's saying something."
Though the boys brought home a third-place trophy, McAfee said the team was disappointed it didn't finish first or second, but Austin Hinchey and Diego Sanchez were both sick.
Freshman Angel Vasquez paced the Wildcats with a seventh-place finish at 17:06, which earned him a medal and All-State honors. It also was the sixth highest individual finish and highest finish for a De Soto freshman boy at the state meet in school history.
"I think in another year he'll be a bit more confident and be a special talent," McAfee said. "I was very pleased he was able to run as well as he did. He ran just about as smart as he could and really got after it."
Hinchey placed 25th with a time of 17:40, Ry Patton finished 29th at 17:51, Ben Burgweger 49th at 18:15, Phillip Kaul 59th at 18:21, Alec Barowka 62nd at 18:28, and Diego Sanchez came in 85th at 19:25.
McAfee credited Kaul and Barowka's efforts for helping hold off fourth- and fifth-place finishers Baldwin and Clay Center.
"I think those two guys, had they not run the way they did on Saturday, we would have finished in fourth or fifth place. With Hinchey and Diego going down the way they did, Kaul and Barowka stepped up big-time."