Football season ends with 28-0 loss to Eudora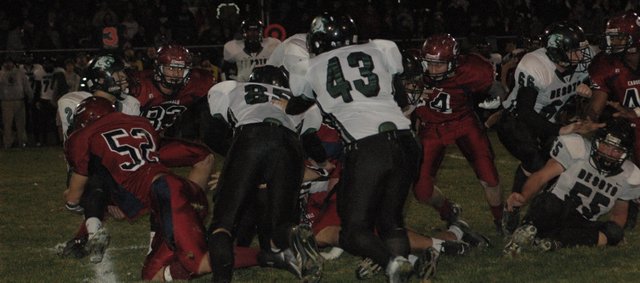 If the Wildcats could have caught a break, the outcome might have been different.
First, the Wildcats got a hand on a Eudora punt early in the second quarter. But on the short kick, the ball bounced off a Wildcat player and Eudora recovered and scored on that drive. Then, on a third-and-long in the third quarter, Eudora threw a deep bomb down the right sideline that became a jump ball between receiver and defender. The ball bounced up in the air, and landed into the arms of the Eudora receiver who scooted 64-yards to the end zone.
Those two plays essentially doomed the Wildcats, and their season came to an end with a 28-0 loss in the first round of the playoffs Tuesday night at Eudora.
"This time of year, in any game it's going to come down to about four or five plays," De Soto coach Tom Byers said. "And they had a couple that were back busters, so to speak. So it was the difference of a couple touchdowns there, and then obviously they scored late. But those were definitely momentum swing type plays for them."
Following the touchdown pass, De Soto mounted a drive as Logan Clark gained 36 yards on the ground, and Daniel Peterson connected with Dylan Burford on a 33-yard pass. De Soto drove to the Cardinal 19-yard line, but couldn't convert on fourth down.
The Eudora offense then marched down the field covering 81 yards in 12 plays, and Evan Cleveland finished the drive off with a 23-yard touchdown run.
De Soto wouldn't give in, however, as Peterson hit Jon Hastings for 20 yards. But on the following play De Soto was sacked for a loss of 18 yards, and De Soto would eventually turn the ball over on downs.
De Soto (4-6) struggled moving the ball and had only 98 yards of offense in the game.
"They've got a solid defense," Byers said. "And we've struggled all year with different things, and Logan (Clark) was out a week ago, and trying to find a rhythm of who's going there, you could kind of see that there wasn't the rhythm that we needed at the end of the year."
Clark led De Soto in rushing with 9 carries for 37 yards. Though De Soto fell to Bishop Miege 29-15 Thursday on Senior Night, and to Eudora, the Wildcats have a lot to be proud of.
De Soto made the playoffs for the second year in a row, and fought back from a slow start that was mostly the result of a touch schedule to open the season.
"I thought our kids improved the entire year, and they bought in to what we were asking of them," Byers said.
More like this story