Fallen influence new
VFW

Post 6654 memorial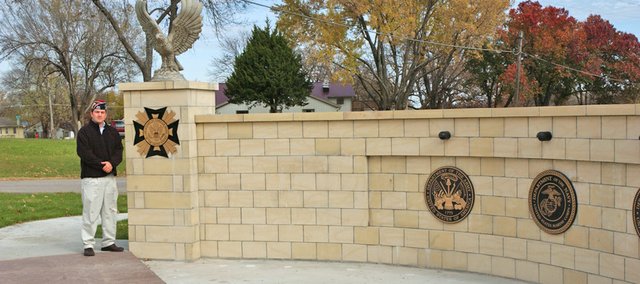 The new memorial in front of De Soto VFW Post 6654 gives the nation's war dead a chance to exercise the "fifth freedom,"Post Commander Drew Culbertson says.
The four freedoms President Franklin Roosevelt famously espoused in the war torn year of 1941 were the freedoms of speech, religion, want and fear. Culbertson added another to that list.
"That's the freedom to influence," he said. "Those guys and gals who didn't come back home didn't get to have that freedom."
On Nov. 14 in association with Veteran's Day, the De Soto VFW Post will dedicate a memorial that Culbertson said will not only honor all veterans but give those who gave their lives for their country a chance to influence others.
Among the details of the memorial are plaques and markers in its interior. One reads: "All gave some; some gave all." Granite markers denote the eight wars that veterans who have joined the VFW through the years — the Spanish-American War, World War I, World War II, Korean War, Vietnam War, Gulf War, Iraq War and the current war in Afghanistan — and lists the number of killed and wounded in those wars.
"It's a visual reminder to those who don't think about the freedoms we have," Culbertson said. "It's a clique, but it's really true: Freedom is not free. It was won with a lot of sacrifice of life, blood and just the sacrifice of being away from family."
In the past year, De Soto residents have watched as the elliptical memorial started to emerge from its concrete base. White stone masonry has been added to the facade, spun aluminum, three flagpoles raised from its perimeter, brass insignia of U.S. Armed Forces branches placed on the inner wall, two eagles placed on bookend pillars, and lettering added to the front.
All this cost an estimated $100,000, Culbertson said. But that total includes a good deal of volunteer time and materials, Culbertson said. There is a long list of post and community members who contributed to the memorial either through labor, money or materials, but Culbertson said two contributors stood out.
"This project wouldn't have been possible without Monte Freeman of Freeman Concrete Company and Charlie James of Miller Paving," he said.
The push in the past year ended a project first conceived more than a decade ago. It started moving from long-range to-do list when the post acquired and razed the two houses, one donated by a post member, along Penner Avenue in front of the post earlier this decade, Culbertson said.
In 2003, post member Herb Wood, a U.S. Marine veteran who saw action in the Pacific during World War II and Korea created a watercolor sketch of the memorial that now hangs on the post wall.
Wood's sketch remained the inspiration throughout the next six years, Culbertson said. Blueprints or schematics were never drawn up, he said.
"It was a good sketch," he said. "I think a lot of us are pleasantly surprised with how in evolved. Herb will tell you he didn't envision it would be as big as it is."
But the sketch and a brick-sale fundraising campaign was pretty much where Culbertson found the project when he first became post commander three years ago.
"I knew there were people who had already bought the bricks," he said. "I just took it as a mandate."
For the last two years, the push has been aided by member Archie Bedford. A former Seebee and construction engineer who saw duty in Korea, Bedford put his background to work on the project.
"Recently, he's really been keeping this thing moving," Culbertson said. "The joke is, 'What is he going to do now?'"
Bedford said his retirement allowed him to spend time on the memorial. But like Culbertson, he preferred to talk of the list long list of post members, De Soto residents and businesses who helped with different aspects of the memorials, such as Randy Canaan who welded the flagpole fixtures to what were aluminum light poles.
Volunteer help and brick sales picked up in recent months as people started to see progress on the memorial, Bedford said.
With its completion, the memorial will be home to future VFW ceremonies, starting — for 2010 at least — with the post's Memorial Day ceremony. But Culbertson hopes it will also be the site of quiet moments from the 300 individuals and families who have already bought bricks, veterans remembering there time in the service or those with departed loved ones who served in the nation's wars.
"I would hope families come to remember fathers and sons and reflect when they see those numbers, and remember what it's all about."
More like this story