Sub-state title highlights '09 tennis season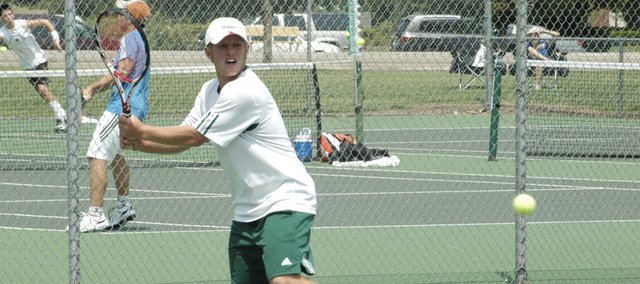 Though the 2009 De Soto boys tennis team ultimately fell short of its goals at the state tournament, the season as a whole was one of the best in school history.
De Soto had two of the best singles players in the state in Andrew Konetzni and Matt Edwards, both of whom qualified for state for the third straight year. Konetzni, who was the No.1 seed at the tournament, fell to last year's state champ Chase Dippel in the second round. Dippel finished second this year at state, and Konetzni finished fifth.
Edwards lost to Chase's brother Quinn in the second-round at state, but finished in ninth overall. De Soto's No. 1 doubles team of Brendon Hudson and Trevor Elmer also qualified for the state tournament and finished sixth at state. De Soto finished fifth as a team at state. It was the fourth year in a row that the Wildcats finished in the top seven at state. Though this year, De Soto was rewarded a sub-state championship trophy after falling just short in recent years.
"Even though we didn't go as high as we wanted at state, one of the things we wanted to do was win that sub-state title because that's kind of eluded us the last three years because we've been runner up," De Soto tennis coach Michael Sullivan said. "And the guys wanted that, so it was nice to get that."
De Soto benefited from having three talented seniors in Edwards, Hudson and Mitch Childers. Edwards ended his career as a three-time state qualifier.
"He's one of a select few players over the last few years who have helped bring De Soto tennis back on the map," Sullivan said of Edwards.
While losing Edwards to graduation will hurt, the Wildcats could be back at state again next year. De Soto will return Konetzni, Elmer and doubles player Joe Dvorak. Foster Moore and Greg Baird also could make a significant contribution next year on varsity.
"What's really good is that some of the younger guys that didn't necessarily play varsity, they developed quite a bit," Sullivan said. "So I think the future, especially if those guys can take it a little more serious and maybe add a little court time this summer, the future is going to be bright."
And it wouldn't be a surprise if Konetzni is the No. 1 seed at the state tournament again next year.
"We've got some guys that will need to step into some of those roles," Sullivan said. "But a kid like Andrew, on paper you've got a potential state champion next year. He'll be one of the preseason favorites, and if he improves like he did every year, if he makes another jump like that I see no reason why he wouldn't stay one of those favorites to take the title."
While the season is now over, next season has already begun. Sullivan said that playing tennis over the summer could go a long way to how the 2010 tennis team does.
"It's especially important for all level of players to get into some tournaments or take some camps because the only way to get better at tennis is to keep playing and put time on the court," Sullivan said. "It takes hours and hours every week if you really want to get to that next level. And if you look at a kid like Andrew and Matt, especially those two guys, it's because they spend hours and hours on their game.
"That's why they're considered two of the top singles players in the state. It's nothing I did. It's because they are dedicated to the sport and put in the time to get better."
More like this story