Long-time
DHS

choral director, Copeland, retires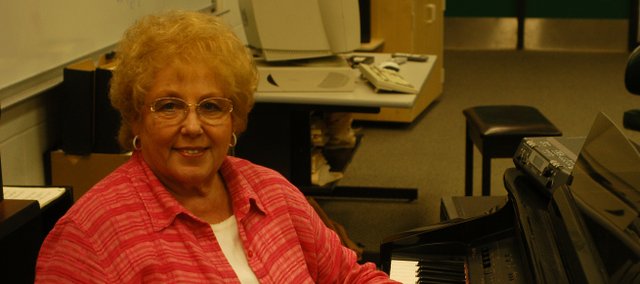 After 41 years in the De Soto school district, Mary Etta Copeland is taking the plunge into retirement. Well, sort of.
Copeland decided two weeks ago to retire, but continue teaching part-time.
"It just occurred to me that it might be the healthy thing to do," she said. "And in this economy if I can help the district a little in this crunch."
While Copeland has worn many hats in the district, she will only teach choral music beginning in the fall.
She will hand over the reigns of two psychology classes and a costume design course.
"The first thing I'm going to do is shape up my house," she said. "There's about 30 years of neglect there."
Still, Copeland will remain involved in the district, teaching three classes every other day. She will also assist in costume design and the school's musical.
"There are a lot of things I'd like to do," she said of retirement. "I'm not going to sit around and do nothing. I have as much energy as I started with."
With more daylight hours available Copeland plans to spend time with her husband and maybe sleep in a day or two.
Copeland began her tenure in the De Soto district at Countryside Elementary in 1968. She commuted between De Soto Elementary and Countryside teaching 19 music classes a day before moving to De Soto High School in 1975.
Copeland began teaching psychology courses about 20 years ago.
"At the time, the only other people certified in psychology were a counselor and special education teachers, so they asked if I would teach it," she said. "I also taught community service when the schools split in 2000."
Copeland said she loved teaching psychology. In 2001, she was one of 10 high school teachers to attend a conference in Florida on the subject.
"You get a lot out of it," she said. "I use a lot of current events. The things we learn about are life impacting."
However, teaching music has always been Copeland's passion.
She ended her full-time career with a choir of 26 seniors, 19 of whom had been involved all four years of high school.
"This year's class was one of the best I've ever had," she said. "I've been very blessed all these years, I only had one class that was a challenge."
About 10 years ago she received the opportunity to play piano professionally.
"It gave me insight in the entertainment aspect of music," she said.
Copeland said seeing and hearing about former students carrying on with their music career was a great feeling.
"The ripples a teacher can send out are the very best," she said. "The rewards and gifts of satisfaction, what a gift they have to give to people."
Some past students are also teaching music. Copeland recalled hearing of former student teaching music at University of Missouri Kansas City, while others even teach in the De Soto district.
Copeland said she became emotional when telling her students about her retirement.
"I cried the first year I taught in Fort Leavenworth, then later at Countryside," she said. "I realized it was a pattern, just because I care about them. Relationships and people is really what I care about."
Copeland plans to finish a course on Christian counseling this summer.
"I began the online course two summers ago," she said. "I'm halfway though it and will focus on finishing that this summer."
Copeland's ultimate dream is to write a book, actually more than one book.
"I have a lot of ideas for motivational, inspirational and encouragement books," she said.
Still, Copeland remains loyal to this district she's worked in for 41 years.
"This district is my family, my home," she said. "I've invested my life in it. I believe in it. There' s no place I'd rather be than De Soto High School. I'm really thankful. I'm blessed with good health and lots of energy."
More like this story