Soccer nets shutout win on Senior Night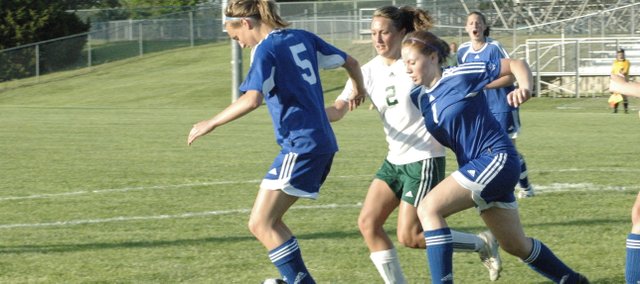 The De Soto Wildcats have picked the right time to be playing their best soccer of the season. Last Thursday on Senior Night, the Wildcats cruised to an impressive 5-0 shutout victory over a talented K.C. Christian squad.
"Everybody else around them stepped up," De Soto soccer coach Darren Erpelding said. "They didn't want the seniors to go out on a low note. And everybody else stepped up their game around them and played extremely well. So I would say definitely by far this is our best overall game."
De Soto led 2-0 at the half, and while the night and win was dedicated to the seniors, freshman Danielle Dowdy made the play of the game with 24 minutes remaining in the second half when she chased down a K.C. Christian player who had a clear path to the goal.
Dowdy came in from the side and swooped her leg around, made a clean tackle and stole the ball, possibly preventing a goal.
"It was an awesome tackle," Erpelding said. "It was probably the best tackle of the year, in all honesty."
Two minutes later Carly Stanley drove from the middle to the left side of the goall and kicked in a shot just inside the right post to give De Soto a 3-0 lead. Stanley scored three goals in the match, and senior Danielle Price scored the other two goals. A few more records also fell on Senior Night. Price broke the state single season assist record with 25, goalkeeper Jamie Zvirgzdins broke the DHS school record for career shutouts with 14.5. And Stanley and Price both broke the DHS career goals record, and with one more goal on the night, Stanley leads with 66 career goals.
Zvirgzdins, a junior, has wanted another goalkeeper jersey to wear in place of her yellow one. But even now that she's the school record holder for career shutouts, she will likely have to continue to wear her yellow jersey.
"She wants a pink jersey," Price said. "She's been wanting one forever, but Coach Erp won't let her get one."
All the seniors contributed in De Soto's win. Brooke Lewis had an assist, Amber Laudick had a tackle of her own to possibly save a goal, Ashley Williams had three shots on goal, and Paige Mason, played varsity for the first time in her career.
"Paige Mason, in the short four or five minutes she was in, made two great passes and got us going on the offensive end and did a great job," Erpelding said. "And those were the only minutes she's ever played varsity. So I'm very proud of the seniors and what they've been able to accomplish. This is our third year with 10 wins. So three out of four years, they've won 10 games. That's a great accomplishment."
With the win, De Soto finished the regular season at 10-5-1. The Wildcats will have a home match against Basehor-Linwood this Thursday at 6 p.m. in De Soto.
"We're really confident going into next week with a big win," Price said. "We're going to come out strong and play our hardest and go as far as we can."
Should the Wildcats win Thursday, they would play Friday against Aquinas.
More like this story