Girls track 3rd at league meet, boys runner up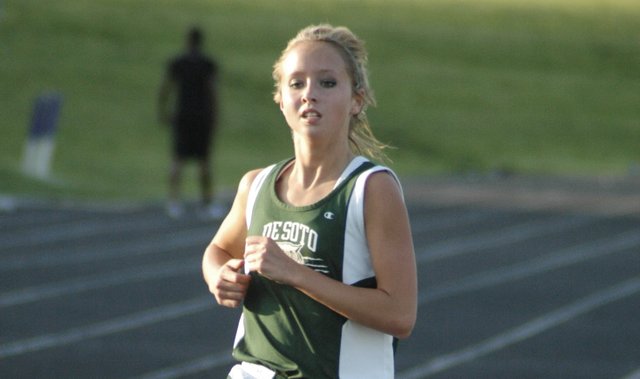 If someone told Brian Dinkel his girls track squad would take third in a challenging Frontier League in 2009, he might not have believed it.
After all, the girls squad is young and a bit inexperienced. But placing third at the league meet Friday was precisely what the lady Wildcats did.
"Nobody expected our girls to place that high," Dinkel said. "We really had no idea that they'd be that good. We were very surprised and very happy."
The boys' side, which carried high expectations from the get-go did not disappoint either, placing second behind Paola.
The feat was particularly impressive for Dinkel and the rest of the coaches because the Wildcats were forced to field a smaller team than usual. Jeff Bowen, one of De Soto's regular point scorers, was unable to participate in the league meet because of a death in the family. Colin Jokisch was also limited because of an injury he suffered.
"If we had a full team, who knows how it would have come out," Dinkel said. "Obviously we would have had to have some things go our way, but it could have been different."
Dinkel added both Bowen and Jokisch are slated to compete at Friday's regional meet for a chance to earn a bid to the state track meet in Wichita. Their teammates performed well in their absence. Dinkel said he was pleased in particular with Jamel Townsend and Jordan Riffel.
"Jamel had a really good meet," Dinkel said. "He took second in the triple jump with a jump of 44.1 feet."
Riffel provided a spark for the Wildcats' point total when he swept his sprint competitions, winning the 100-meter, 200-meter and 400-meter.
"Jordan was unbelievable," Dinkel added. "We weren't going to run him in the 100-meter at regionals but he ran so well. We're definitely running him now."
The regional meet is next on the agenda and is scheduled for Friday at Santa Fe Trail. Dinkel said he was excited about the team's mentality going into the most important meet of the year.
"I think they're at a good point emotionally right now," he said. "We've talked about things they needed to do and how to get focused. The team has a pretty good picture of the kids they have to beat to go to state because a lot of teams at the league meet will compete in our regionals."