Cats dominate Bobcats, 6-0
St. Thomas Aquinas next up for
DHS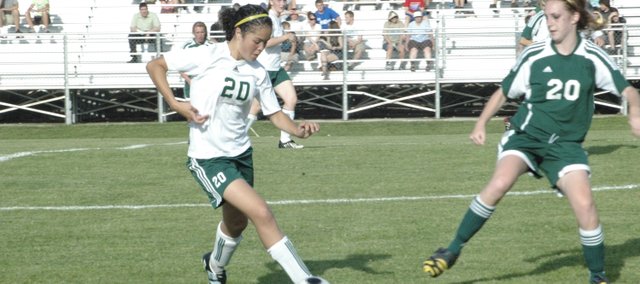 The De Soto soccer team was utterly dominant in its 6-0 home over Basehor-Linwood Thursday in the first round of regionals.
Goalkeeper Jamie Zvirgzdins saw just two shots come her way during the match, and De Soto's offense sped past the much slower Bobcat defense. Danielle Price scored three goals, Carly Stanley scored two and Amber Laudick scored another, which was her first career goal.
"All in all, the girls played pretty well," De Soto soccer coach Darren Erpelding said. "We dominated them. That game wasn't even close."
While the score wasn't close – De Soto led 2-0 at the half and tacked on six more in the second half – the game, however, was marred by physical play, with both teams having players get knocked down several times.
Stanley and Price were taken out a few times each, and Erpelding basically pleaded for the officials to call some penalties. Finally, a Basehor player was ejected late in the second half.
Price said she felt she just had to keep her composure.
"You just have to keep your cool, and as long as you're winning it's kind of like payback," she said. "That's what I think of it as."
With the win, the Wildcats (11-5-1) tied the school record for most wins in a season, and Zvirgzdins broke the single season shutout record.
"Jamie was really bored, but that's good because she might have a pretty busy night tomorrow night."
De Soto's reward for beating Basehor is a road match against powerhouse St. Thomas Aquinas at 6:30 p.m. on Friday.
"They're fast, they're big, threy're strong, they're more athletic, they're taller and they jump higher," Erpelding said of Aquinas. "They do everything better than we do. I'll put money on that we have a better center midfield than they do, but we're going to have to play pretty much perfect tomorrow night to win, and I think the girls are starting to believe."
To help prepare his girls team for the match, Erpelding had the girls practice this week against the De Soto boys soccer team.
"That kind of gives a pretty good estimate of what goes on in what we're going to play with speed and size and things like that," he said.
Erpelding acknowledged that beating the No. 1 seed would be difficult, but not impossible.
"We're excited to play them to be honest with you because if we pull this off it would probably be one of the greatest upsets in Kansas soccer history," he said.
More like this story