Boys golf wins regional title, qualifies for state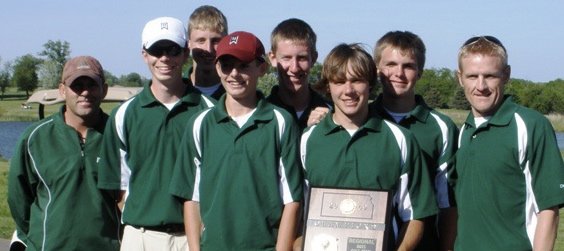 Gusty winds and challenging pin locations can make golf an awfully difficult sport.
So when Chad Brecheisen's golf team saw these conditions Monday at De Soto's regional golf tournament, the Wildcats coach knew his team would have to turn in a strong performance to leave the course smiling.
Suffice it to say, the team did.
De Soto won the regional championship after signing off with a team score of 353, which was a full seven strokes ahead of No. 2 St. James.
"This wasn't really our goal," Brecheisen said. "Our goal was to qualify for state, which means finishing second. Winning it was definitely a bonus, a pleasant surprise."
Brecheisen said he was particularly proud of the way his team battled through adversity.
"The course played really tough," he said. "It was windy and the pin placements were challenging. I think that's why some of the team scores were so high. My kids responded well."
Alex Crall defined overcoming obstacles for De Soto. After putting up a triple and quadruple bogey on the first two holes, Crall bounced back to shoot an 85.
"For him to rebound after those two holes and put a great round together, that's where the mental side of it comes in," Brecheisen said.
It was that aspect of the game that Brecheisen believes propelled his team to the title.
"Every kid had his own adversity," he said. "And their sheer ability to focus and never give up, to try to play each stroke and forget about the last one was why we ended up on top."
Freshman Mason Wedel led the Wildcats as he shot an 84, good enough for fifth-place in the region. Crall took second on the team, and Charlie Modereger (87), Brett Williams (97), Kevin Brashears (104), and Brandan Philbrook (113) rounded out the team's top six.
"The whole team performed with the way the course played," Brecheisen said. "A couple guys ground it out. As a whole, I was impressed. It was a complete team effort."
The next challenge for the Wildcats will be Tuesday's state tournament in El Dorado. Brecheisen said the team would travel down Sunday and play two practice rounds before the championship begins.
"We know there are some really good teams that will compete," he added. "But we just have to play the course for that day. If we put our best scores together for the day, I think we could potentially surprise some people and be close to the top three."