Softball shutout in semifinal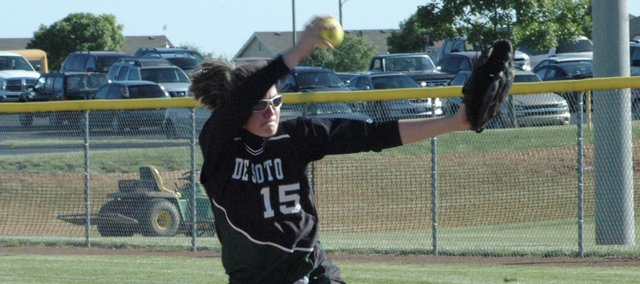 It wasn't really a shocker that Bishop Ward scored three runs in the first inning against De Soto ace Katie Williams Tuesday in the second-round of regionals at Eudora.
It was surprising, however, that Ward tacked on six more runs against Williams in the game. The three-run first was all Bishop Ward needed offensively, and De Soto's season came to end with a 9-0 loss.
"The three runs in the beginning it hurt, and we just couldn't come back from it," De Soto coach Melissa Wible said. "I mean we lasted a long time with them at 3-0, and we just couldn't hold them. We were popping up too much. We weren't putting the ball in play on the ground and we really needed that."
Wible gathered her team together just outside the dugout early in the game and told them to try to hit the ball on the ground. But Ward's starter Jenny Schneider was as dominant on the mound as Williams usually was this season for the Wildcats.
"They're a good team," Wible said. "You have to give it to them. They had good pitching."
Williams pitched all seven innings for the Wildcats and struck out 10 batters, but De Soto struggled to get anything going offensively. De Soto advanced to the semifinal by shutting out Piper, 3-0, on Monday. Williams pitched seven innings and struck out 10 batters while only allowing three hits.
Williams also singled and scored two runs against Piper, and Kelsie Gower had two hits and two RBIs in the contest. With the loss, De Soto finishes the season at 11-11. It was the first time in five years that De Soto won a game in regionals.
Next year's squad could prove to be better as it will lose only one senior, third baseman Danielle Williams.
"I think that they're going to have a really good season next year," Williams said. "I think they have the potential to go further in regionals. I think we just choked a little bit on this game, but with the crew that's coming up and the returning team, I think we've got a shot."
Bishop Ward went on to win the regional title by beating Basehor-Linwood, 5-1.
More like this story