Seniors celebrate one last day at
DHS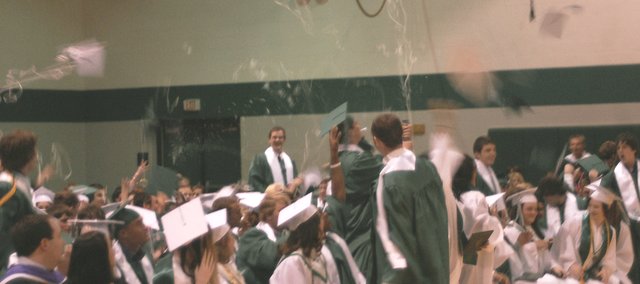 In the De Soto High School commons after Saturday's graduation, new graduate Aaron Donnell said what made the Class of 2009 special was its togetherness.
"We had a lot of class unity," he said. "We were a pretty tight-knit group."
Nearby, new graduate Amber Laudick agreed.
"We really didn't have any clique or anything," she said. "We challenged each other to make each other better."
Graduation is breaking up that togetherness as students scatter for work or school. Donnell will enroll at Kansas University in the fall to study for a career in the medical field, while Laudick said she would attend K-State to study animal husbandry with the goal of becoming a veterinarian.
But it wasn't surprising the two focused on the friendships they made during their years in the De Soto school system. For nearly two hours, they and their classmates heard speakers recount aspects of their years together and urge them to look for the meaningful in life.
De Soto High School social science teacher Adrianne Lehrman, chosen by seniors to address the class at the ceremony, noted the students grew up in an age of Facebook and text messages. Those and other modern inventions and innovations make life comfortable, but the graduates shouldn't seek the comfortable or play its safe, she said.
"Try new kinds of food. Collect experiences not things. Find something that makes you feel good about yourself," she told the class, while advising them to make good use of their time to make the world better.
Starla Koehler, one of eight students to speak at the ceremony, recounted her busy four high school years. She started as a freshman heeding advice to get the most of the experience by taking part in as many activities as she could. She learned over time to concentrate on people and the meaningful, she said.
David Calderon, whose journey to Saturday's graduation started in 13 years ago in a Mexican kindergarten, told his fellow students not worry about being normal but to seek change by being the best they could be.
"Accept responsibility for your own happiness," he said. "Be the kind of person you would want for your best friend. Remember when you change, those other people haven't. Just don't forget about them. There are other people out there that have helped you — helped all of this — on this exhausting journey."
In her speech to the class, McKenzie Thompson paid homage to the staff members, teachers and administrators who helped them.
"I'm sure most of them taught us life lessons we'll never forget," she said.
In the speech they delivered together, Jenna Hodges and Stephanie Gass related class stories from kindergarten through high school. In their school days, the class experienced the September 11 terrorist attacks together and the sudden introduction of homework in middle school, which they thought at the time was "overwhelming."
"No matter how small, these are the things that will stay with you the rest of your life," Gass said.
That point was also made in a joint speech by class members Katy Curtis and Becca James.
"Right now in this spot is the last memories we will have in this class," James said near the conclusion of the address.
As they class members move forward, they would apply the lesson from their high school experience, class speaker Amber White said.
In the last speech of the ceremony, first-year DHS literature teacher Phillip Hamilton introduced the concept of the "senioritis time continuum" of procrastination. As they move on, the seniors would find those days were over, he said.
The difference between teenagers and adults was that "adults show up," he said.
"In adulthood, you have to earn it," he said. "You can chose to do one thing, but you have to go to work the next day or they will fire you."
To their seniors' credit, their graduation proved they showed up, Hamilton said.
In his goodbye to the senior class and announcing class honors, DHS Principal Dave Morford praised the seniors for their performance on state assessments. The Class of 2009's 95 percent proficiency on the test was the highest in school history. The math proficiency level of 94 percent was noteworthy, too, he said.
Top scholars in the class were Cody Carter, Stephanie Gass, Jenna Hodges, Starla Koehler, Clinton Kyle, Amber Laudick, Ashley Sweeney and Amber White.