Baseball exits in second round to Ottawa 7-1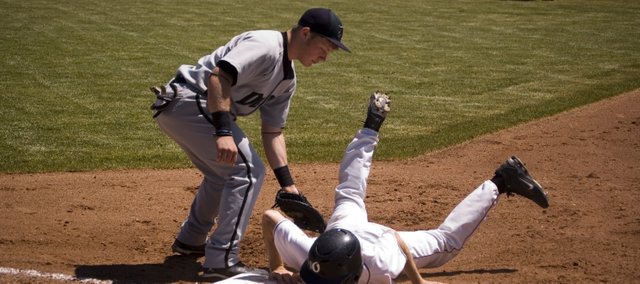 After winning their first-round game on Monday, the De Soto Wildcats were not able to hang with eventual regional champion Ottawa on Tuesday afternoon at Tonganoxie.
The Cyclones won, 7-1, and held DHS to just four hits in the contest.
Junior Eric Seymour went 2-for-3 in the season-ending loss. Paul Oswald and Kyle McCulloch were the only other Wildcats to get a hit.
Sammy Seibolt reached on an error in the top of the fourth and eventually scored the team's lone run, cutting the deficit to one before Ottawa crossed the plate four times in the bottom of the inning to take control of the game.
De Soto batters went down swinging 12 times against Ottawa and secured bases on balls on three occasions.
While De Soto ultimately fell short of reaching its goal of making the state tournament, the Wildcats overcame their seemingly usual slow start to begin the season. While De Soto began the year at 1-4, coach Joel Thaemert's team rallied and came together late.
Thaemert's team played a near flawless game on the road in the first round against Jeff-West Monday and came out winners, 4-2.
"We were really ready for that game," Thaemert said. "We focused this week in practice and had a lot of fun. The guys were on a really even keel."
Tommy Elmer turned in a complete game to earn the win.
"Tommy just did an outstanding job," Thaemert said. "It was a heck of a good ballgame."
Elmer struck out six batters and forced 13 groundouts in the contest.
He also received run support from several teammates, particularly the top third of the De Soto lineup.
Dylan Burford, De Soto's leadoff hitter, reached base all four times, batting 2-2 with two walks. He also scored half the team's runs. Seibolt reached base three times and scored the other two runs.
Logan Clark provided the big stick against Jeff-West and tallied three hits (two singles and a double) and knocked in three RBIs.
De Soto ends the season with a 12-10 record.
– Tonganoxie Mirror reporter Benton Smith contributed to this report.
More like this story