DHS

Class of 2009 to say goodbye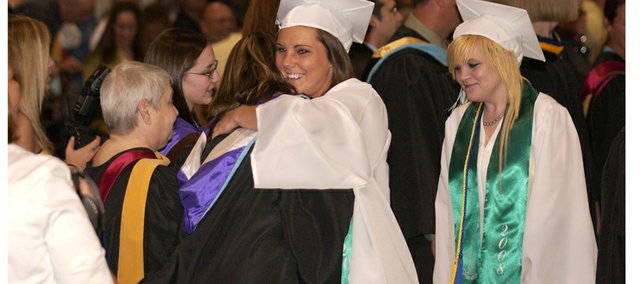 De Soto High School's class of 2009 arrives at commencement ceremonies Saturday as students, but will leave as adults.
Members of the graduating class of 2009 take part in the 89th graduation exercise at De Soto High School beginning at 6 p.m. Saturday in the DHS gymnasium. The De Soto High School class of 2009 is expected to graduate 130 students, 17 of which are National Honor students.
Interim superintendent Ron Wimmer will welcome family, friends and well-wishers to the ceremony.
Senior speeches will be given by Starla Koehler, Katy Curtis, Becca James, David Calderon, Amber White, McKenzie Thompson, Jenna Hodges and Stephanie Gass.
Mike Murphy will recognize 13-year attendees of USD 232. Principal David Morford will present the Citizenship Award, followed by the recognition of DHS's eight Top Honor Scholars.
Then, seniors James Mikaloff and Ashley Sweeney present the senior class gift.
Phillip Hamilton will make closing comment before the senior recessional.
More like this story