Seniors showcase artistic talent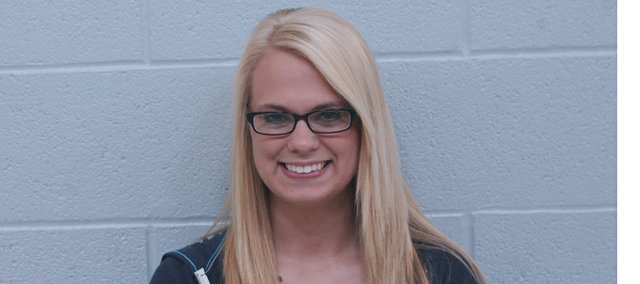 Eight De Soto High School seniors were shooting for the stars this year.
In a class ripe with artistic talent the eight seniors were chosen to represent the school in the Art Council of Johnson County's 2009 Shooting Star Scholars Recognition Program.
Four of those seniors received scholarships after placing first or second in the program.
The Shooting Star program recognizes Johnson County high school seniors who have excelled in the arts during high school.
Samantha Kearns, Danielle Price and Amber White received first-place honors in the program entitling each to a $1,400 scholarship.
Jenna Hodges received second place and a $700 scholarship.
Mary Etta Copeland, DHS music instructor, said this year's senior class provided a bumper crop of talented students for the program.
"We had a bumper crop of seniors," she said.
There were 26 seniors in choir alone, something she said was uncommon.
"To have that many students in the program, nineteen of them for all four years," she said.
The Shooting Star Program highlights nine distinct art categories including literature, photography, theatre/performance, theatre/technical, three-dimensional art, two-dimensional art, classical voice, strings and winds and percussion.
Because De Soto does not have an orchestra program, the strings category was left vacant.
For all other categories, the school's departments got together to nominate students.
With so many talented students there was a lot of crossover, Copeland said.
"We chose the students who would have the best chances of winning," she said.
Samantha submitted a portfolio on set design, scripts, sound effects and other theatre elements, but did not include acting for her nomination in the theatre/technical category.
She also had to participate in a 10-minute interview with judges.
Samantha plans to attend the Kansas City Art Institute to study graphic design.
Danielle submitted five sculptures for her nomination in three-dimensional art. The sculptures were female busts. Danielle plans to attend Avila University in the fall to study pre-medicine.
Amber submitted a story about a father and daughter's changing relationship for the literature category. She plans to attend Baker University to double major in English and sociology.
Jenna performed one solo song on her clarinet for the winds and percussion category. She plans to attend Kansas University and major in pharmacy. Depending on her class schedule she might try out for the band, she said.
Other seniors that competed were Gretchyn Reeves, who competed in the classical voice category, Zac Miley in the two-dimensional art category, Allison Freund in theatre performance, and Jessica Chicoine in photography.
The eight seniors attended the Shooting Stars Gala: Nerman Museum Exhibit, Reception and Recognition & Scholarship Program.
Jenna likened the event to the Oscars.
"It was a lot fancier than we thought it would be," she said. The event featured a red carpet and video package of interviews and performances.
The Gala began with a reception, gallery show and finally the announcement of scholarship winners.
"We were all hiding behind stage waiting for them to announce the winners," Samantha said.
The seniors sat in the category in which they were nominated, Amber said.
"We are all really grateful to our teacher for nominating us," she said.
Now the seniors are preparing to leave high school behind, but their artistic talents will continue to blossom.
Seniors graduate at 2 p.m. Saturday in the De Soto High School gymnasium.