There can be only one
Konetzni 1st, Edwards 2nd at Invitational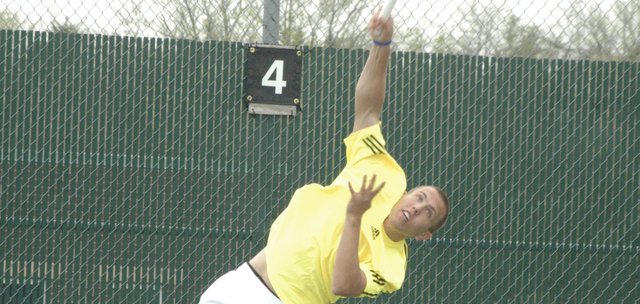 Andrew Konetzni and Matt Edwards just knew they were going to meet in the singles tennis finals at the De Soto Invitational Saturday.
In the quarterfinals, Edwards' powerful serve was too much for his opponent, and when his opponent returned his serve, Edwards could get any shot he wanted on both shoulders. And in the semifinal, Edwards looked equally strong as he did the match before.
But in the finals against Konetzni, Edwards struggled a little and hit several balls that bounced just out of bounds. And Konetzni, who was impressive all day, was even better in the finals and topped Edwards 8-0 to win the singles title. Konetzni, who is officially 2-0 this season against Edwards, said defeating his teammate was significant for several reasons.
"It's more important too because he's in our school and I like to beat him and just win overall over anybody," Konetzni said. "But it's also a big deal just to beat him because he's on our team."
The Wildcats won the De Soto Invitational for the first time in a few years in large part because they finished first and second in singles play, and their No. 1 doubles team of Brendon Hudson and Trevor Elmer finished second in doubles.
"It's very good to win," coach Michael Sullivan said. "We knew we had a really good chance getting first and second in singles, and I was real happy with Brendon and Trevor. They started off slow at our league meet and we knew doubles would be pretty good competition here."
De Soto played Bishop Miege on Monday and Konetzni and Edwards both won their matches. Next up for the Wildcats is regionals Thursday at De Soto and sub-state Friday at Topeka-Hayden. Edwards said he would approach the postseason just like he has the regular season.
"I just go out there like a normal match and just play," he said. "There's really no difference. There's no point in worrying about it. You just go out there and play."
And there is good chance Edwards and Konetzni will meet in the finals at regionals.
"I'll probably be playing Matt in the finals Thursday and then Friday for state," Konetzni said. "So I'm just going to go in for winning both titles and go in strong to state and getting a good seed at state and winning it this year."
More like this story