Cats take 1st at home meet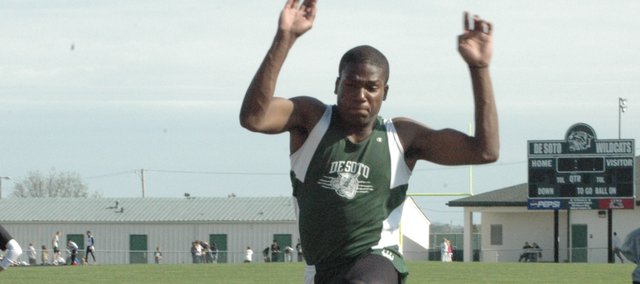 Photo Gallery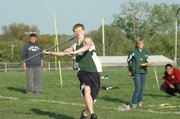 De Soto Invitational
With one launch of the javelin, De Soto freshman Joey Johnson tossed himself right into the hunt for a state title Friday at the Wildcats' home meet.
Johnson, who had to be convinced to go out for track by the De Soto coaches just a few months ago, took first-place in the event after throwing the javelin 156 feet. Previously, Johnson's personal best was 133 feet.
"His father competed in the javelin when he was younger," coach Brian Dinkel said. "So Joey's got it in his blood. That's one of the top-ranked throws in 4A."
De Soto hasn't seen a thrower put up Johnson-like numbers since Dinkel has been at the helm, the coach added.
Johnson, along with several other strong performances combined to give De Soto the victory on both the men's and women's sides.
"I think the kids were more comfortable at home," Dinkel said. "Their parents and friends were there and you always want to compete well in front of a crowd. They looked a lot more relaxed."
Jeff Bowen also impressed as he won the 300-meter hurdles after inching past the second place competitor right at the finish line.
"That was a real exciting race because he beat the guy that beat him last week," Dinkel said. "He got another (personal record) and got to issue a little payback."
Jordan Riffel and Brianna Fairbanks also snagged first-place finishes in the 400-meter and the 100-meter hurdles.
"Brianna had never competed at the varsity level in the hurdles this season," Dinkel said. "Then we put her in and she runs great in her first meet. I was really pleased with her."
Lacey Erickson continued her stellar season with another first in the 800-meter run, a result that did not surprise her coach.
"She took off and was close to the school record again," he said. "She's just running unbelievable this year, and she's getting better every week. Even if she has a down race, she will always bounce back. She's always focused and has a positive attitude, too."
The Wildcats travel to Shawnee Mission North Friday to square off with several 6A schools from the Johnson County area.
Dinkel said he's looking for his team to prove it can step up to a challenge as his kids have slipped somewhat during the most competitive meets this season.
"We should have a good showing if we continue to compete the way we have recently," he said. "This is another good opportunity to perform well in a big meet. We haven't done it yet so hopefully that will change Friday."
More like this story