Track team strong again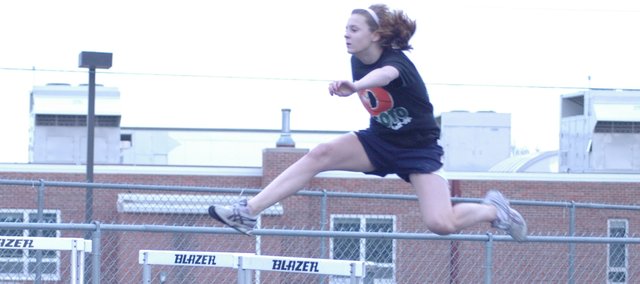 Despite losing a state champion and three-time medalist from his 2008 De Soto track squad, coach Brian Dinkel is excited about his group of returning Wildcats.
De Soto, which lost standout track star Andre Linzy to graduation last year, returns a solid cast that is poised to make some noise in 2009.
"Our biggest loss is Andre because he was the state champion in the triple jump, second in the long jump and 200-meter," Dinkel said. "So he was definitely a big point scorer. But the team we have coming back will be just as strong as last season."
Last year, the boys team took fifth-place at the state meet, while the girls were in the beginning stages of a rebuilding process. A strong set of upperclassmen in Jordan Riffel, Mark England and Jamel Townsend will look to lead the Wildcats to an even better finish this year.
Riffel took third in the 400-meter at state last year and will participate in the 200-meter and a relay team this season.
"There is no doubt in my mind that Jordan will have a good chance to win the state championship in the 400-meter this year," Dinkel said.
England, who Dinkel said struggled last year with finishing the workouts at the beginning of the season, appears to be in mid-season form and is impressing his coach before the first meet.
"I'm expecting big things from Mark and Jamel," he said. "Jamel would have qualified for state if we were in any other region last year. We just had the toughest regional. He is healthy and looks a lot faster this year."
Dinkel added he thought Townsend could qualify for the state meet in the long and triple jumps, as well as contribute to the 4x100-meter and 4x400-meter relays.
The De Soto girls team is in a slightly different boat than the boys, as it will feature a youthful group full of potential but lacking experience.
While the boys goals are to better their fifth-place finish at state last year, the girls will focus more on winning some individual hardware and work to mature into a complete unit by season's end.
"I don't expect the girls to finish quite as high as the boys do at state from a team's perspective," Dinkel said. "But we will have several individuals do really well. I know that. There is no reason in a couple years we shouldn't have a state-contending girls team as well."
Lacey Erickson, who doubles as a cross country runner for the Wildcats, will help lead the distance runners this season. Dinkel said she had shown good work ethic in the weeks leading up to the spring campaign.
"She works very hard," he said. "I see her running all the time on my way home from work. She's got a ton of talent and I expect her to make some noise at state."
The coach is also excited about the prospects of his 4x800-meter relay team that consists of Beth Richardson, Shelbi Petty and Erickson. Dinkel said the fourth member would most likely be determined once the season begins.
Erickson and company will get their first chance to show just how much they've improved during the offseason when the Wildcats take part in their first meet of the year on April 3 at the Baldwin Relays.