Soccer not overlooking Broncs this year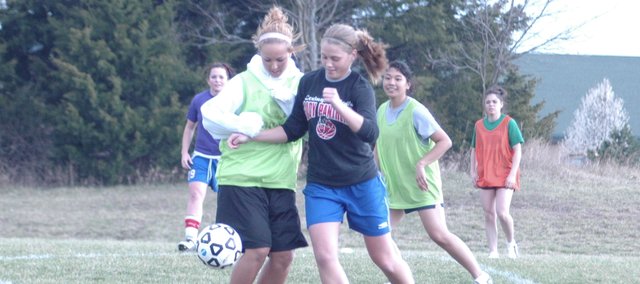 Darren Erpelding remembers last season's opener all too well.
He remembers how his squad overlooked the Spring Hill Broncos prior to the match.
He remembers how it didn't play to its potential and lost, 3-2, in a match he believes the Wildcats could have won 5-0.
But mostly, he remembers the sour taste left in his girls' mouths after starting the season with a tally in the loss column.
Those memories, he said, had motivated his team to ensure history does not repeat itself.
"The girls will not let that happen," Erpelding said. "The team is ready and is not overlooking them this year. The girls would love to have that game back."
Spring Hill will need to bring its 'A' game this year as Erpelding will field a squad filled with returners.
"We have a lot more experienced girls this year," he said. "I think I'm more nervous than they are, but I'm excited."
One of the primary reasons behind his excitement is the play of his goalkeeper, Jamie Zvirgdins.
"Jamie is looking really good so far," Erpelding said. "She's making a lot of saves – saves she wasn't making last year. I think since she knows the job is hers she is more confident this season."
It's a good thing, too, as the Wildcats will likely run a 3-5-2 formation that will put some extra pressure on the defense to perform. Carly Stanley, who starred in the back last year for De Soto, will move to the midfield this season. It is a move that Erpelding made with confidence.
"Our back line will be fine," he said. "Running Carly in the midfield will open up a lot of options. She's good on the ball and works well with Danielle Price."
Other than having a new coach on the bench this year, Spring Hill offers little surprises.
"(Spring Hill) had three quick players last year and I think two of them are returning," Erpelding said. "I anticipate they will play one of those girls up top and the other one in the central midfield."
Other than those players, Erpelding said he thought the Broncos would field a young, inexperienced side because Spring Hill has no junior varsity soccer team.
The Wildcats had the privilege of playing their own J.V. team this week in practice. Erpelding said the team looked good, considering this week was the first set of practices he had with all of his players on the field.
"Just coming off spring break is always challenging," he said. "We were just able to put in our set pieces and corners on Monday because we haven't had everybody at practice yet."
The squad will see if its practice paid off on Thursday at Spring Hill. Kickoff is at 4:30 p.m.