Serve's up
Cats ready for season opener at Washburn Rural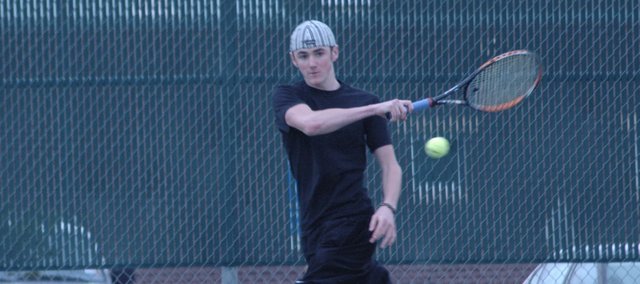 The De Soto Wildcats tennis team will enter its first match Tuesday at the Washburn Rural Invitational in Topeka as the No. 5 ranked team in the state.
De Soto tennis coach Michael Sullivan said he was looking for his squad to be competitive and added that the meet would be a good measuring stick to see where the team is compared to others.
"It's one of the more competitive tournaments that we go in," Sullivan said. "And it's kind of good to get that right away so we can see where we're at."
De Soto returns three seniors in Matt Edwards, Brendon Hudson and Mitch Childers, and two state qualifiers from last year's team. Edwards finished fourth and junior Andrew Konetzni finished sixth in singles at state a year ago. Sullivan said he considered Edwards and Konetzni to be co No. 1's.
"To be honest, when those guys play at No. 2, they don't get any competition. They don't," Sullivan said. "But somebody has to play at No. 2."
Sullivan said this season he would likely rotate the two at the No. 1 spot, as he did last year. Konetzni had previously played tennis in the winter, but this winter was the first time Edwards played in a club.
"I'm interested to see where Matt's going to be compared to last year," Sullivan said.
As a senior, Edwards has spent time at practice giving pointers to some of the other kids, including Hudson and junior Trevor Elmer.
Hudson first went out for tennis as a junior, and he and Elmer will make up De Soto's No. 1 doubles team this year.
"Trevor spent a lot of time on the court this summer and I expect them to take that next step this year, too," Sullivan said.
Sullivan said he wanted the team to build off past season's success, which could lead to more hardware this spring.
"Our goal is we want to finish better than we did last year," Sullivan said. "I think everybody's goal is to do better than they did the year before and that's both individually and as a team. Team-wise we won league last year, which was the first year they ever had league. So that's ours and we definitely want to defend that.
"And when it comes to regionals, sub-state and state, we want to take that next step. I think the guys would like to get a sub-state trophy and state-wise the goal is to get multiple qualifiers and have guys place higher than they did last year."
After the Washburn Rural Invitational, De Soto will compete in the Topeka-Highland Park Quad on April 6.