Position 6 candidates set stage for election showdown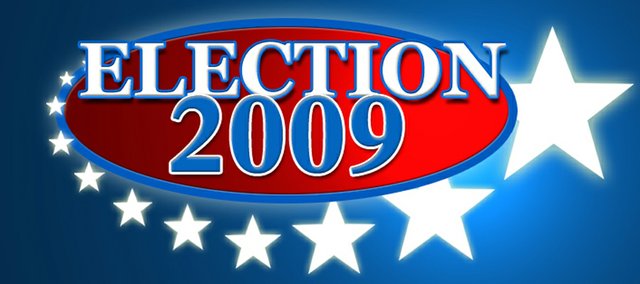 Editor's Note: Position 6 candidates, Larry Meyer, Tim Needham and Tammy Thomas' profiles appear in alphabetical order.
Larry Meyer
Larry Meyer has dedicated his life to being a professional educator and says seeking his second term in Position 6 of the De Soto USD 232 Board of Education only increases his advocacy for children's education.
Meyer, director of special education for Southeast Kansas Education Services Center, has worked in education for more than 30 years. His experience includes being a high school math teacher, school psychologist and elementary school principal.
Meyer decided to run for a second term because he believes in public education.
"I've lived in De Soto (school system) for over 20 years and have seen the education community progress into a very progressive school system where young families want to move because of the quality of education," he said. "And I want to make sure that continues."
Meyer said his work on the school board was also a way to give back to the community.
"If I'm living in a community, I want to make sure I'm providing excellent education for children," he said.
Meyer said the state's budget shortfall and growth in the community were two issues he anticipated the board will have to deal with in the future.
"There are two tough issues," he said. "One, with the current financial crisis the state is under, we need to make sure we have enough money to do what we need to do for students. Second, assuming the growth continues, we'll have to look at any way we can to be more efficient with our resources — use them in the most efficient manner."
Meyer said his proven commitment as a board member and a leader on the board speak to his credibility. Meyer is serving a one-year rotation as the current board president.
"I think our district is the size that we have a lot of core support in place for students," he said. "One of the things I like about the district is that my kids had very caring and supportive teachers. They had a core support group to help with any difficulty they would encounter."
Meyer's two daughters graduated from Mill Valley High School.
Meyer said the board must be fiscally responsible. Part of that is to ensure you are being responsible with ensuring quality education, he said.
"I truly believe as a board member, our responsibility is to make policy but ultimately that provides teachers with the resources they need to do their job and to implement a high quality curriculum."
Meyer said the board needed to continue to grow and understand the difference between what it meant to build consensus versus looking at issues singularly.
"We need to not look at things in isolation but in the big picture — what's good for the whole district not little segments," he said. "I cannot control the board, but I can control what I do. I will continue to inform myself about issues. I do my best to look at the facts and make an informed decision."
Meyer said the most rewarding part of being on the board was when students were awarded for achievement.
Tim Needham
Tim Needham graduate from Mill Valley High School in May.
The senior feels he can bring a voice of compromise and a fresh perspective to the Board of Education.
"Having a fairly young adult influence on the board I can be a different voice," he said. "I could represent what I see are my peers, other students. I can understand how the students are affected by the Board's decisions."
Needham said he has rarely seen a middle ground approach to issues on the board.
"I feel like the board has fallen out of a state of compromise," he said. "We see a lot of dichotomized decisions on the board with three to four votes. I don't like to see the decision split. I'd like to see some compromise."
Needham said he would approach every issue open-minded.
"I'm a very open minded person," he said. "I don't go into the situation with my mind made up. I will go into every decision making process with an open mind to make an educated decision."
Making sure teachers and students are taken care of is Needham's main concern with the district.
"We need to make sure classrooms, teachers and students are taken care of and we are educating every student," he said.
Needham said his decision to run for the board surrounded compromise and the financial situation of the district.
"I'm concerned to see how the district is going to get through the current economic situation," he said. "You'll find that some board members won't agree with others. We are going to lose money and we have to deal with that. We have to make sure the bond money is spent wisely. I'm sure someone could defend every dollar our district spends but we are going to have to do more with less. We'll take a hit, but how much is debatable."
Needham said his biggest experience in leadership has been with Boy Scouts. He finished requirements to be an Eagle Scout in November.
He also has experience in student council and helping on other's political campaigns.
"I learned how to communicate with community members and to understand what people like to talk about," he said of campaign work.
Needham said his college decisions have not been effected by his choice to run for school board. He plans to attend college within driving distance, so that if elected he could easily attend meetings and events. He plans to study mass communication or mass media then attend business school.
"I will work just as hard if not harder than any other board member," Needham said. "I want to give this district everything I have in the way of community servitude. I would talk to constituents, patrons, board member, employees and students. I'll definitely communicate with students more than other board members. I want to keep the communication lines open to all people who want to discuss issues of the board."
Tammy Thomas
Tammy Thomas wants to bring a fresh point of view to the USD 232 Board of Education.
The stay-at-home mom said she represented something that was not already on the board.
"I have been extremely involved in the education of my children," she said. "I am always in the classroom helping out. I contact the teachers to see what they need in their classroom. I help host parties and coordinate dinners for the football team and aid in fieldtrips. Teachers know they can call on me for anything."
Thomas said the district has gotten away from the real focus, which she said should be teachers and kids.
Thomas said the biggest issue the board will face was finances.
"It's a big issue the board must deal with, and it is on an annual basis," she said. "The choice of superintendent is the single most important decision the board can make."
The board needs to look at where money is being spent, she said.
"Does it positively impact the teachers and students?" she said. "It goes back to impact. Is it positive? Could we do better? If it's a negative impact, I don't support it. We have to keep the focus in the classroom. We spend a lot of money in this district that does not facilitate that goal."
Thomas, who has a background in nuclear medicine and radiology, has three children who attend or graduated from the district.
Anyone who will volunteer time to serve on a school board ultimately has good intentions, Thomas said. But the way an individual attains those goals could be different, she said.
"They have done good things," she said of the board. "My kids are still here. Could we do better? Without a question."
If elected Thomas would like to work on engaging teachers.
"Teachers do not feel like they can come forward with ideas if it's not what the administration puts forth," she said. "Teachers do not feel welcome to come forward. I don't want them to feel apprehension to come forward."
Thomas said the district does not support innovation or input from teachers.
"I know that administration indicated that these are in place," she said. "By the time it gets to the board, it is too watered down. As a board, we need direct information between teachers and the board."
Thomas said she would like to see more direct questions asked at board meetings.
"Lets say a director indicates there is a restructuring, like with the early childhood special education," she said. "The director stood there and said she consulted staff. Not one board member asked whom she consulted. If you're not willing to step up then the board doesn't serve a purpose. We need to focus on what we can do. We can't spend more than our constituents can pay, and we have to be accountable to them."
Thomas said she was ready to step up and represent on the board.
"I have a perspective that is not represented as a stay-at-home mom," she said. "And I have a rapport with teachers that others don't. I'm ready to make the commitment. As a board member, I want teachers to be more engaged and aiding in the process to bring the best education to our kids."