Raising the stakes
Seniors lead Wildcat boys to 15-win season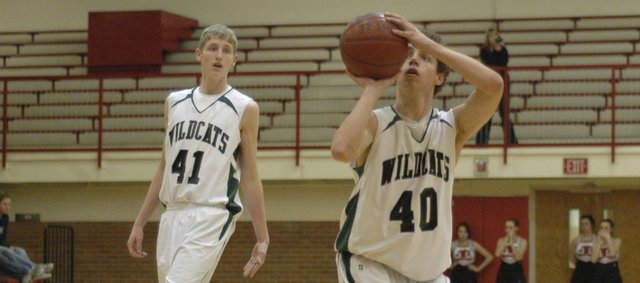 The De Soto boys basketball team finished two wins short of making it to last week's state tournament. And the progress the boys basketball program made over the past two years might be a small glimpse into a bright future.
"I credit a lot of that to my senior leaders," De Soto coach Jim Bonar said of his three seniors Jamel Townsend, Tommy Elmer and Brendon Hudson. "They set the tone early and the expectations early for the boys team and they really came through."
The three seniors were all starters, and each player uniquely made the team better. The 6-foot-1 Townsend was shorter than many of the opposition's post players. But his athleticism and quickness on the block made him a difficult match up. Also being left-handed, Townsend could spin and create easy shots inside. Townsend also was named to the all-league first team.
Townsend transferred to De Soto as a junior and said he enjoyed his short two-year career at De Soto.
"It was a good transition for me," Townsend said. "I felt like I really came close with everyone. It was a good experience for everyone."
Elmer and Hudson gave the Wildcats two potent three-point threats and heady play from the guard positions, and Hudson earned second team all-league honors. With the leadership from their three seniors, the Wildcats finished second at the Hays City Shootout, won the Tonganoxie Invitational and took third in the league behind Gardner and Ottawa. De Soto and Ottawa tied with a 4-3 record in league play, but Ottawa beat De Soto head-to-head.
"We were a little disappointed finishing third in league," Bonar said. "We felt we could have finished a little bit higher, but overall 15-7 was pretty good for us. It was the first time we made it to the second-round in sub-state, so we accomplished some things that hadn't been done in quite a while in De Soto."
De Soto could have gone undefeated in league play, but lost to Eudora and Ottawa in the final seconds, and blew a double-digit second half lead at home to Gardner.
"Our league is just that way," Bonar said. "And the coaches know well enough, and the players know well enough that they better come and bring their A-game every night."
While De Soto will lose three starters, next year's team returns two starters and a host of players who logged significant varsity minutes.
Junior Brandan Philbrook and 6-foot-6 sophomore post player Aaron Nutterfield gave De Soto a strong inside-outside duo offensively last year. Philbrook was a weapon from beyond the arc, and Nutterfield used his height and long arms for easy put-backs on offense and to block shots on defense. Paul Stallbaumer, who started earlier in the season before being slowed by a knee injury, and forward Jeff Bowen both played tough defense for the Wildcats last season. Bonar said he looked for them to have better seasons next year. De Soto also returns reserve guard Dylan Burford and standout freshman Mason Wedel. Wedel was an honorable mention all-league pick.
"He has to step up and fill some big shoes with Brendon leaving at the point guard position," Bonar said. "But if you look at our league in general, the strongest class is probably the freshmen and sophomore classes. So the league is going to get better as my guys go through. There's a lot of talented freshman and sophomores."
Bonar said De Soto would also look to play an even tougher schedule next year and continue to play hard on offense and defense.
"We're going to try to pattern our offense around some of our more talented kids as far as scoring opportunities," Bonar said. "But other than that, we're going to try and grind it out defensively and make people work for every shot.".