Volunteer brings order of De Soto Multi-Service Center closet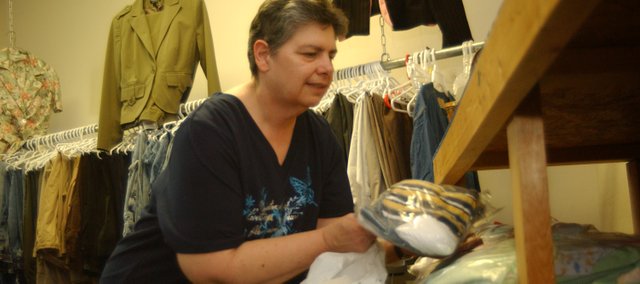 Awaiting Jodi Hitchcock at the door Tuesday of the De Soto Multi-Service Center were two bundles of clothing and old lawn sign.
The sign, the second left at the center's door with the mistaken idea it would be useful, was atypical, but the piles of clothing were not.
Several years ago faced with the task of organizing the clothes brought into to left at the center's door, Hitchcock, the center's director, considered closing the center's clothes closet down. She simply didn't have time to set aside the needed and useful and get rid of the substandard clothes or mismatched shoes, socks or gloves people left at the center rather than throw away.
Enter Jo St. Peter, who had been helping off and on at the center for a number of years with her daughter Sara Jones.
In addition to helping her daughter at the De Soto center, St. Peter said she had been involved with the clothes closet her church provided with other Seventh Day Adventist congregations in the metropolitan area.
St. Peter asked Hitchcock if she could explore obtaining useful clothing from another source and asked if could help take charge of the center's closet, Hitchcock
"She told me to go ahead and do whatever you want to do," St. Peter said. "I asked, 'What are the rules?' She said, 'Whatever you make up.'"
St. Peter said she hadn't gotten around to the rule part as yet, although there are some simple rules posted on the door to the closet. Those in need of clothing need to get the key from the Multi-Service office and no children can enter without being accompanied by an adult.
But she has organized the closet so that its users can easily locate clothes by gender, age and season, including a long rack of winter coats that was augmented by an appeal St. Peter and Hitchcock made to the community early in the winter.
"They won't be here much longer," St. Peter said Tuesday, "They'll be packed away soon"
St. Peter said she was impressed and thankful for the way the community responded to the appeal for coats. The closet can always use good decent clothes, but she and Hitchcock said it should not be viewed as a place to get rid of worn out, tattered clothing or the sock, shoe or mitten missing a mate.
"The clothes are here to help people," Hitchcock said. "We don't have too many one-legged 10-year-old boys."
They would also like to end the practice of people leaving clothing at the door where it can be picked through and scattered overnight or during the weekend. For those who can't schedule a drop-off during center hours, Hitchcock has an arrangement with another of her trusted volunteers, Frances Lawhead.
"If they call me, they can drop clothes off in my van and I'll deliver them when the center is open," Lawhead said. Her phone number is 585-1098 and Lawhead lives at 31860 W. 83rd Street.
In addition to clothing, St. Peter is also attempting to stock household goods for those in need.
"Jodi gave me two storage areas," she said. "I'm trying to collect household goods for somebody who is in a fire or emergency situation.
"Last year, a family in Olathe had a fire and we had nothing to give them. I was embarrassed.
"We have lamps, toasters and microwave ovens. There's not a lot there, but it's a beginning. I would like to have more set aside."
Similarly, St. Peter has started putting together disaster packs. Those on bundled items made for specific age groups that would be immediately available to families who are suddenly homeless because of a fire, tornado, flood or even eviction, St. Peter said.
Her goal is to eventually have packs for all age groups but St. Peter is now focusing on children's sizes.
"I started with infants and the little girls are now up to nine months," she said. "The little boys are up to size 5. I don't have that many. I only have four or five packages for each size."
She would like donations to fill more packs.
"May your donations be like old friends," she said. "Should you ever have a disaster or if something ever happens to someone in your family where you need help from the clothes