Sub-state heartbreak
Boys fall in
OT

to St. James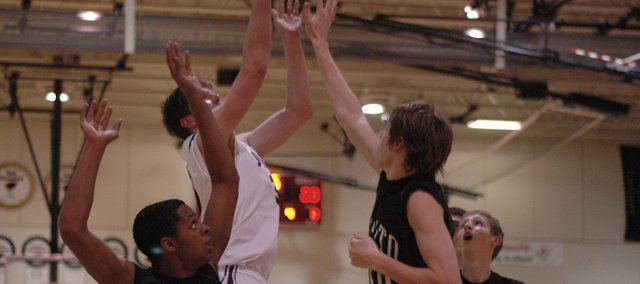 For three quarters against St. James in the sub-state semifinal Thursday at Eudora, the De Soto Wildcats played near the top of their game.
Jamel Townsend had already recorded a double-double, and the Wildcats had an eight-point lead heading into the fourth quarter. De Soto was eight minutes from a shot at the state tournament.
But in those eight minutes, the Wildcats saw their lead evaporate, and their hopes of advancing to this week's state tournament in Salina ended with a 59-48 overtime loss.
"They hounded us all night long on defense," De Soto coach Jim Bonar said. "We only got one three down, and we didn't get many looks, actually. So for us to put up that many points on one three, that's a lot of points."
At the end of three quarters, De Soto's chances looked good. Townsend had 16 points and 10 rebounds. St. James' 6-foot-6 twin towers Clint McCullough and Jordan Bickelmeyer picked up early fouls and had to ease off Townsend's back. And Townsend and Aaron Nutterfield were cleaning the glass and holding their own against the Thunder's inside duo.
Things changed in the final quarter. De Soto had six turnovers, and St. James got back in the game, taking a 42-41 lead with 1:03 to go in regulation on McCullough's jumper in the paint.
St. James added a free throw with 23.5 seconds to go, and De Soto called timeout with 14.6 seconds left. The Wildcats ran a clearout for Townsend, and his shot tied the score at 43 to force overtime.
But in the extra frame, De Soto was already in foul trouble and as the fouls began to mount on the Wildcats, the Thunder couldn't miss from the free-throw line.
St. James hit all 14 of its free throws, and De Soto scored just five points in overtime. Townsend ended the night with 21 points and 12 rebounds, and McCullough had 26 to lead St. James. Townsend, Brandan Philbrook and Mason Wedel all fouled out for the Wildcats.
"That's the nature of the beast," Bonar said. "It was a pull, grab, push, shove type of game. And when you get that, you start getting hands in the passing lane and you try to catch the ball, but you can't catch the ball because you're getting pushed and shoved when you catch it. And it was like that both ways, but we turned the ball over and had some bad possessions."
Philbrook only played about 12 minutes because of foul trouble. His absence on the perimeter hurt the Wildcats, with Tommy Elmer and Brendon Hudson struggling from the floor.
Wedel hit De Soto's lone three-pointer, which came in the second quarter.
"Sometimes it just doesn't go your way," Townsend said. "But it was a good season, and we don't have anything to hang our heads about."
Bonar said he was proud of his team's effort and thanked his seniors for their leadership.
"All I could do was apologize and told them I thought we should be in the finals," Bonar said. "I hadn't even thought about actually losing this game. I had no speech prepared for them. I don't want to see those kids go. They're great young men who are going to go on to do great things."
Nutterfield had six points, Hudson had five, and Wedel, Philbrook, Elmer and Dylan Burford had four each for De Soto. The Wildcats ended their season at 15-7. St. James lost in the sub-state final to K.C. Sumner, 68-51.
More like this story