Girls soccer showing early progress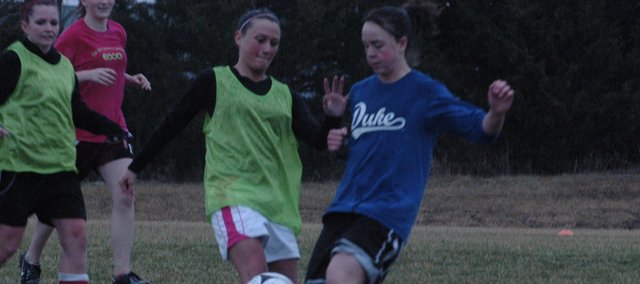 The recent spike in temperatures isn't the only reason the outlook is sunny for the 2009 De Soto girls soccer team.
After last year's10-win season, the Wildcats are excited about their team, which returns eight starters from 2008.
"I think we're further ahead this year than last year," soccer coach Darren Erpelding said. "Just in terms of drills, passing and moving, we look a lot better now than we did at this time last spring."
That's encouraging news considering the girls had a considerable success last spring despite being in the same conference as St. James Academy, the returning state champions.
"I think if we stay healthy we can stay competitive with (St. James)," Erpelding said. "Our conference has some teams that are down this year that haven't been down in the past. I think if we stay healthy we could be a very dangerous team."
Staying healthy was an issue for the Wildcats last season as they lost their first-string goalkeeper to an ACL injury. Jamie Zvirgdins, who Erpelding said filled the goalkeeping void nicely last season, returns as the No. 1 goalie and is expected to be even more comfortable in 2009.
"Jamie looks really good so far," Erpelding said. "She looks good in scrimmages and is making saves she didn't make last year. This year, since she knows it's her job, it has been a huge confidence boost."
With the defense solidified, Erpelding plans to move Carly Stanley into the midfield to accompany Danielle Price. Price scored 18 goals and had four assists in 2008. The coach said the Stanley-Price combination could be a dangerous duo for opposing defenses.
"They work really well together," he said. "By having Carly up there with Danielle, that's going to be a big improvement."
The Wildcats, who lost five seniors from last year, will feature a similar strike force to last season with a combination of Nancy Marquez, Alex Cox and Brook Lewis running up top.
"Nancy had four goals and two assists as a sophomore," Erpelding said. "She has a lot of speed and works extremely hard."
The only early negative for the Wildcats, it seems, is their fitness. Erpelding said he was a bit disappointed the girls didn't take advantage of some of the off-season conditioning opportunities afforded to them during the winter.
"That's probably the one disappointing thing," he said. "We have five or six girls that play club-ball year-round, so their fitness is probably fine. But we had some girls not showing up for the winter workouts."
Fortunately, lack of fitness is easily curable, he said.
"Conditioning is definitely something we work on every day," Erpelding said. "We've been playing half-field games and it has been getting girls more playing experience and the conditioning comes with that. We also have about 30-45 minutes of conditioning after practice."
The team will have six days after it returns from spring break to get fit before its first game March 26 at Spring Hill.