Cat girls battled until the end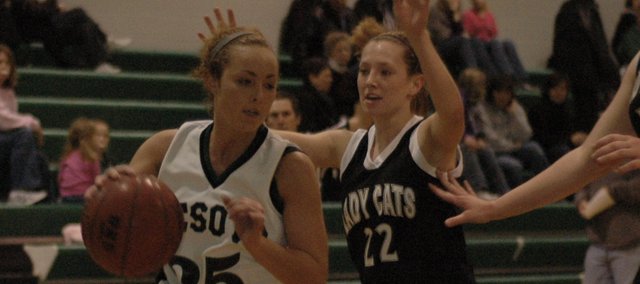 From a numbers standpoint, the 2008-2009 season for the De Soto girls basketball team wasn't quite what the squad had hoped for when it took the court last November.
But numbers aren't everything.
"Our effort all year was good," coach Dwight Spencer said. "Our kids never quit. They played hard right up to the final game."
The Wildcats' season ended last week after Spencer's undersized team fell to Sumner Academy in the first round of sub-state, 73-35.
Spencer said that loss was just further proof that his team would need to get bigger and stronger before next season if it wants to improve on this year's 3-17 record.
"We've got to get them in the weight room," he said. "You could see that we're not there height-wise. But we're also lacking the strength needed to be successful. We have a new weights coach coming in and hopefully he'll be able to get them motivated. We'll give them one week off and then they'll start with their after-school conditioning."
It's not a surprise the team struggled physically against some of the teams on its schedule considering the Wildcats were also one of the younger teams in the Frontier League. In fact, De Soto will graduate only one senior this May.
"I think our youth was partially a factor in our record," Spencer said. "The only person we lose is Amber Laudick, so hopefully we'll have everybody back and the rest of the team will benefit from this year of experience."
Spencer said his post players, particularly the Gorman sisters – Ashley and Katie – improved over the last year and could be much better players in the coming seasons.
"If they can get in with their height and hit the weight room in the offseason and put on a little more size, as well as get in the gym to work on their skills, those two can help us a lot next year," he added.
The Wildcats had spurts this season where they looked like contenders. They nearly posted a 16-point comeback against Frontier League foe Ottawa earlier this season after Kelsey Fisher and Shelbi Petty – two players who will return next season – showed they were capable of being two of the best shooters in the league.
Though the Wildcats went winless during league play, Spencer said the team could be competitive next season.
"We have the returners to be better next year," Spencer said. "I know that. I'm confident they will put in the work this summer. I expect us to be better."