Wildcats fall 59-48 in
OT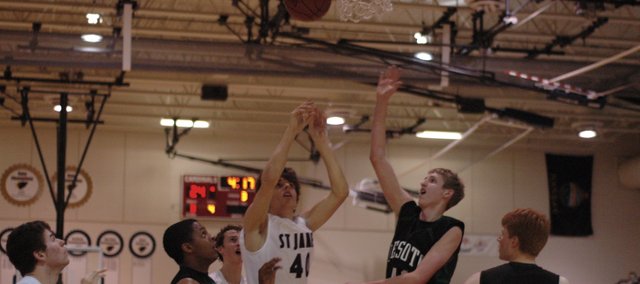 Jamel Townsend scored 21 points and had 12 rebounds for De Soto, but the St. James Thunder overcame an eight-point fourth quarter deficit, and beat De Soto, 59-48, in overtime in the second round of sub-state Thursday night at Eudora.
De Soto led 37-29 going into the fourth quarter but had several turnovers that resulted in St. James buckets got the Thunder back in the game.
Clint McCullogh's field goal with 1:02 to play in regulation gave the Thunder a 42-41 lead. Joe Kelling hit 1-of-2 free throws with 23.5 to play, but Townsend tied the score on a field goal from the left block with 4.2 seconds to play to force overtime.
In overtime, St. James hit 14 free throws and pulled away from De Soto. McCullogh scored 26 points and Kelling added six to lead the Thunder in scoring. Aaron Nutterfield scored six for the Wildcats.
De Soto ends its season at 15-7. St. James (19-3) will play Sumner Academy in the sub-state championship game at 7:30 p.m. Saturday in Eudora.
For the full story, read Thursday's De Soto Explorer.
1 2 3 4 OT F
De Soto 9 10 18 6 5 48
St. James 9 9 11 14 16 59
De Soto: Brendon Hudson 5, Mason Wedel 4, Jamel Townsend 21, Dylan Burford 4, Tommy Elmer 4, Brandan Philbrook 4, Aaron Nutterfield 6.
St. James: Mike Huppe 9, Brock Borovetz 1, Joe Kelling 6, Kevin Lysaught 8, Jordan Bichelmeyer 8, Anthony Smith 1, Clint McCullogh 26.