Starside named a Kansas Green School of the Year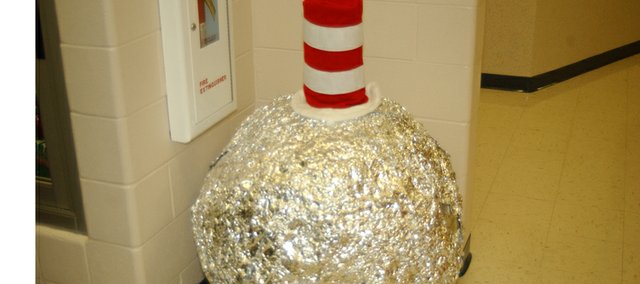 Students and staff at Starside Elementary have been 'Going Green' for eight years. This year the school is being rewarded for its efforts.
The Kansas Association for Conservation and Environmental Education named Starside as a 2009 Kansas Green School of the Year.
Paula Henderson, counselor at Starside, said the green initiatives at Starside are student driven.
"We started eight years ago with recycling," she said. "Then the kids started coming up with their own ideas. I thought they would lose interest but they haven't."
Each classroom at Starside features recycling bins. The school recently changed to a co-mingle recycling approach with Deffenbaugh Industries. Students can drop-off a variety of recyclables without sorting them first.
Henderson said at last count the school had recycled four tons of material this year.
"The custodians have said they are picking up a fourth of the trash they used to," Henderson said. "I've noticed the recycling bins are more full than the garbage."
On Thursdays a group of students stay after school to recycle and pick up, Henderson said. The group recently changed their name from Community Service to Earth Keepers.
"Anyone can come on Thursday to help," Henderson said. "Students just have to bring a note. We had 55 students the other week."
Mother Nature, portrayed by Elyzabeth Navarre, visits Starside for assemblies and every Wednesday for morning announcements.
Mother Nature talks to students about environmental issues and awards the Top Dog traveling trophy.
Top Dog is made of items found in one of the school's recycling bins. The award is for classes, groups or individuals that have shown environmental awareness.
The award, handed out every week, has gone to student that painted the pop tab collection bin and students that have contributed to the cleanliness of the school, Henderson said.
Fourth-grader Becca Clanc said her class received Top Dog one week.
"I think it's important to recycle," she said. "If we don't, our world might be filled with trash and the waste lands would be full."
Clancy has even taken her green awareness home.
"I asked my neighbors if they would collect pop tabs for the school," she said. "Some even brought me their cans."
Perhaps the most-loved green initiative at Starside is Bob the Ball. Bob, a ball constructed of tin foil, has become the schools mascot, greeting students each morning.
Students add to Bob daily, Henderson said. Bob participates in many events at Starside. He led the school's Halloween parade and received countless valentines.
The school's pencil machine is filled with recycled pencils. The pencils are made with newspaper that peels off rather than using a sharpener.
Starside's newsletter also went green this year. The newsletter is now an email.
Henderson said the school has tied the green initiatives to the school's character education.
"Our second-graders have recently written a paragraph reflecting their concern about plastic shopping bags and sent it to a large retailer," Henderson said in the application for Kansas Green School of the year. "Our fourth-graders are planning a video conference call with a government official stating their environmental concerns and have gone to Earth Works for a field trip."
Starside will be recognized on April 3 at the Kansas Museum of History in Topeka. The school will be the host April 13 of representatives from KACEE.