On to round two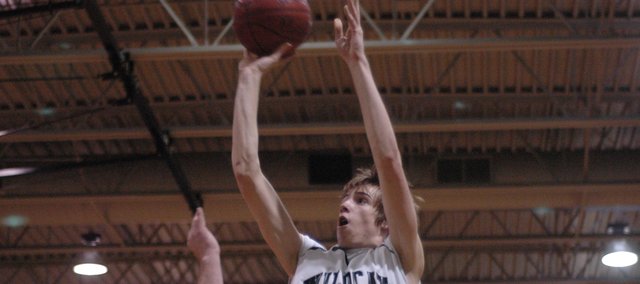 Aaron Nutterfield scored only two points, but his presence was felt much more than that. Nutterfield was a force on the boards, blocked shots, altered numerous others and hustled all night long.
His play helped De Soto beat Eudora, 56-47, in the opening round of sub-state Monday night at De Soto. Nutterfield scored his two points early in the first quarter on an offensive rebound and putback. Later in the quarter, Nutterfield had three blocks on two possessions. Nutterfield, though, wasn't totally satisfied with his first half performance.
"I thought I didn't really play that good in the first half," Nutterfield said. "Second half, I wanted to get back out there and block some more shots."
De Soto's defense stiffened in the third quarter and Eudora didn't make a field goal the entire quarter. Eudora scored just three in that third period, those points coming on three free throws by Eudora senior Cody Carlson.
De Soto trailed by four at the end of the first quarter and trailed by one at 26-25 at halftime. During his halftime speech, De Soto coach Jim Bonar told the team he wasn't ready to say goodbye to his three seniors, Tommy Elmer, Brendon Hudson and Jamel Townsend, just yet. The three seniors responded.
Hudson's three-pointer with 4:40 to play in the third pushed De Soto's lead to 33-27. Freshman Mason Wedel scored on a dribble-drive late in the third quarter and was fouled. He hit the floor hard and turned an ankle. He was helped off the court and did not return to the game. Wedel scored 12 points before exiting. Dylan Burford checked in for Wedel and hit the free throw to give De Soto a 39-29 lead heading into the fourth quarter. De Soto outscored Eudora 14-3 in the third.
"The third quarter was kind of our explosion and wakeup call," Bonar said. "We played OK in the first half. Aaron played very well. Jamel, when he wasn't in foul trouble and in the game, he was pulling huge rebounds, and (Brandan) Philbrook hit some big shots for us."
De Soto built a 14-point lead with 6:37 to play in the fourth, but Eudora answered back and cut the lead to 48-40 on a field goal by Justin Ballock with a little more than two minutes to go. But that was as close as Eudora would get. The Cardinals went to a full-court press, and De Soto used quick passing to speed past the press and hit layups late in the game. Eudora then had to foul, and De Soto hit 9-of-12 free throws in the final 3:37 to hold off the Cardinals. Burford hit two free throws and scored on two layups in the closing minutes.
"Burford did a fantastic job to come in like that ice cold and hit free throws," Bonar said. "He took great care of the ball when it was crunch time. They kept fouling him and he kept hitting free throws."
Next up for the Wildcats (15-6) is a second round match with St. James at 7:30 p.m. Thursday in Eudora.
More like this story