McDaniel, Walker, Pickert popular with voters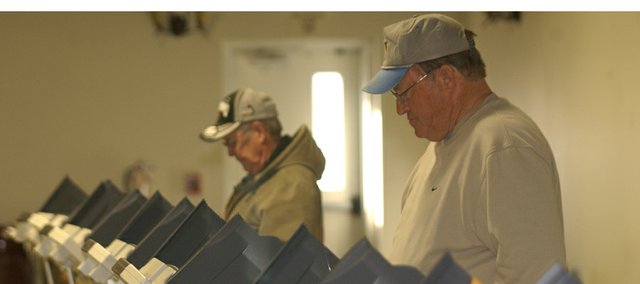 Ron McDaniel, who decided to run because of his conviction the city should keep operating the Sunflower water plant, won the most votes Tuesday in the primary for De Soto City Council.
With that achievement, McDaniel will move on to the April 7 general election with the five other top finishers in the primary. They include — in order of finish — Rick Walker, Doug Pickert, Kevin Honomichl, Bob Garrett and John Krudwig. The top-two finishers in the general election will join the council.
Eliminated were Danny Lane, Andy Everett, Sam Tyler, Ron Crow Jr., and Stephanie Weaver.
The primary vote came 12 days after the De Soto City Council ended a year of deliberations over the city's future water supply by voting to upgrade the Sunflower water plant.
Five other candidates mentioned their opposition to the alternative being considered, an agreement to purchase water from Olathe, as at least partial motivation for their candidacy. For the most part, however, they didn't share McDaniel's success. Of those candidates, only Bob Garrett, who was an early and outspoken opponent of a water purchase agreement, survived the primary.
Tuesday evening, Garrett said he achieved his goal with the council's decision last month.
"What I was trying to do was make that happen," he said. "The race is not that important anymore."
He would forgo advertising and signs, Garrett said.
"I probably just let the people decide who they want and let the chips fall where they may."
The primary's third-place finisher, Doug Pickert, said the resolution of the water issue should bring other issues to the fore in the next month, although it would still by an issue.
"I would hope there would continue to be discussion about water and economic development and the other projects the city could do to move forward," he said. "I would hope the discussion would broaden in the next month."
Kevin Honomichl, who finished fourth, said it was hard to get a read on the results with the water issue resolved after dominating so much of the primary's discussion. The focus could now shift to economic development issues, he said.
He would try to increase his name recognition in the next month by doing some door-to-door campaigning and attending community events, he said.