Grant to provide combined fire department three new firefighters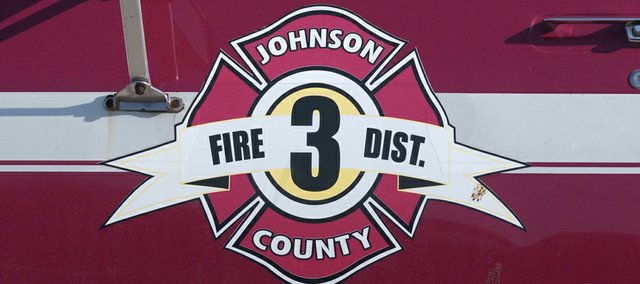 The merged fire department that will serve De Soto and the surrounding rural area got a boost with news last week it would receive a $296,000 grant from the U.S. Department of Homeland Security.
The grant was awarded to Johnson County Rural Fire District No. 2, which will cease to exist at the end of the year when it merges with the De Soto Fire Department to form the Northwest Johnson County Consolidated Fire District. The grant will provide money to offset the expense of hiring three full-time firefighters.
Mark Billquist, operations manager for the fire district, said the grant would provide $101,000 of the new firefighters salaries and benefits (or 90 percent) for its first 12 months and decline each year until the local jurisdiction picks up the entire expense in the fifth year.
With the grant, one full-time firefighter will be added to each of the department's three shifts, Billquist said.
"We're starting the (hiring) process right now," he said. "We're hoping we can get them hired before the start of the year."
This was the fire district's second attempt to secure the grant, Billquist said.
"The funny part of it is in December I was notified we were rejected but a month later we were notified we were being reconsidered because a lot of departments around the country were turning it down because of the matching part," he said. "When I presented it to our board last year, they felt it was perfect with consolidation because it worked well with that."
The grant was presented last Thursday to the interim committee planning the merger of the two departments, with the explanation the merger would not affect the grant. The interim committee, which includes the current fire district board of Kent Dvorak, Larry Kroemer and Jay Lang and city council appointed representatives Max Atwell and Linda Zinder — who has been elected committee chair — agreed to accept the grant.
Also at the meeting, the committee started putting together the consolidated departments' budget for 2010 with the help of De Soto City Administrator Pat Guilfoyle.
But with key revenue numbers still unavailable — Guilfoyle said he didn't have time to review the Johnson County Appraiser's Office first projections for the current fire district — the committee started with operating expenses.
The consolidated department's 2010 budget is projected to total $1.23 million or 2.3 percent more than the current budgets of the two departments. Guilfoyle said that didn't count the grant spending, which would be covered by grant revenue.
In a 2007 report to the city council, Guilfoyle found the coming consolidation's savings would be in future capital improvements not in its annual operating budget.
More like this story