Grapplers make big gains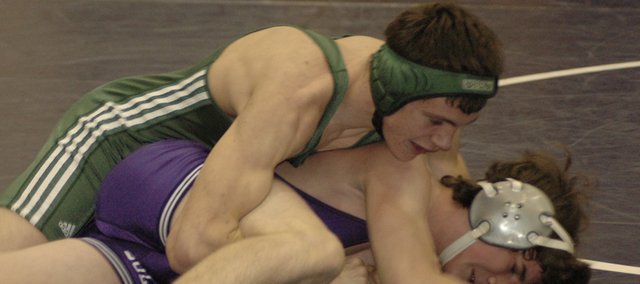 Despite not qualifying any of its wrestlers for the state tournament, the De Soto Wildcats enjoyed a season that saw significant improvement from previous years.
Just one year removed from a 1-11 record in duals, coach Shannon Sawner led his squad full of youngsters to a near .500 season, going 5-7 in duals this year.
"We tripled our scoring from every tournament we had last year," he said. "So that was obviously good. But our goal is to send kids to state and place well there. So we'll keep that in mind in order to keep progressing."
The team, which consisted primarily of freshmen and sophomores, had several wrestlers come close to achieving state tournament-status, but injuries and other obstacles prevented the Wildcats from making the trip to Salina.
"Zack Atchison did well as a freshman this year," Sawner said. "He won over 20 matches but was kind of stuck in the toughest weight class. In fact, out at the state tournament, the No. 1-ranked wrestler coming in didn't even place this year. That's just how tough that weight class was."
Sawner said he was pleased with the performance of Hayden Chandler, a freshman heavyweight.
"Hayden came on strong at the end of the year and got real close to making the tournament," he added. "He and Donny Parr showed a lot of improvement throughout the year."
Brandon Vukas, perhaps De Soto's top wrestler, cracked his sternum in the weeks leading up to the league and regional meets and was unable to compete at the end of the season.
"Brandon made the final at the Clearwater tournament and was wrestling really well until he cracked his sternum," Sawner said. "That was kind of a disappointment. He was wrestling as well as anyone in the league."
Sawner said he would look for Vukas and Parr, who are both sophomores, to lead the Wildcats to a more successful season in their junior years.
"It's an obvious advantage to have those young guys getting varsity experience," Sawner said. "You hope that after they get a lot of varsity experience as sophomores that they will be able to turn the corner as juniors and seniors. I know they all improved quite a bit this season."
Simply winning more duals and qualifying some wrestlers for state is not Sawner's primary goal, however. The coach wants the team to put itself in a position where it not only qualifies wrestlers, but places them at the state tournament in 2010.
More like this story