Johnson, McDaniel finish atop De Soto primaries
Polls open until 7 p.m.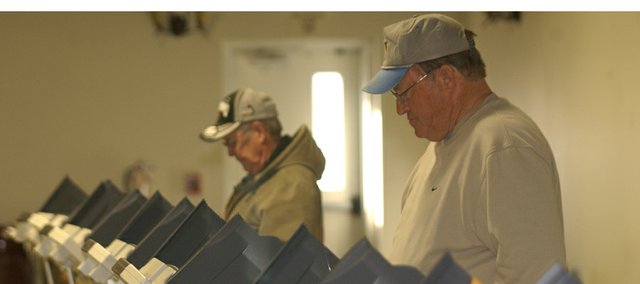 Ron McDaniel, who decided to run because of his conviction the city should keep operating the Sunflower water plant, won the most votes Tuesday in the primary for De Soto City Council.
With that achievement, McDaniel will move on to the April 7 general election with the five other top finishers in the primary. They include — in order of finish — Rick Walker, Doug Pickert, Kevin Honomichl, Bob Garrett and John Krudwig. The top-two finishers in the general election will join the council.
Eliminated were Danny Lane, Andy Everett, Sam Tyler, Ron Crow Jr. and Stephanie Weaver.
The results will remain unofficial until canvassed later this week or early next week by members of the Johnson County Commission.
Also contested Tuesday was the primary for the De Soto USD 232 Board of Education Position 4 seat. Incumbent Randy Johnson finished first, followed his two opponents in the general election Roger Templin and Margaret Johnson. Eliminated were Jeff Hopkins and Gregory Hines.
Primary results:
USD 232 Position 4
Randy Johnson, 273
Roger Templin, 187
Margaret Johnson, 105
Jeff Hopkins, 94
Gregory Hines, 32
De Soto City Council
Ronald McDaniel, 132
Rick Walker, 121
Doug Pickert, 115
Kevin Honomichl, 94
Bob Garrett, 78
John Krudwig, 74
Danny Lane, 71
Andy Everett, 62
W.R. Sam Tyler, 58
Ron Crow Jr.,. 57
Stephanie Weaver, 47